Tartlets and Tarts
TARTLETS
Tartlets are nice made in this manner:
Roll some good puff paste out thin, and cut it into two and a half inch squares;
Brush each square over with the white of an egg, then fold down the corners, so that they all meet in the middle of each piece of paste;
Slightly press the two pieces together, brush them over with the egg, sift over sugar and bake in a nice quick oven for about a quarter of an hour.
When they are done, make a little hole in the middle of the paste and fill it up with apricot jam, marmalade, or red currant jelly.
Pile them high in the centre of a dish on a napkin and garnish with the same preserves the tartlets are filled with.


PATTIES, OR SHELLS FOR TARTS
Preparation:
Roll out a nice puff paste thin;
Cut out with a glass or cookie-cutter and with a wine-glass or smaller cutter, cut out the centre of two out of three; lay the rings thus made on the third, and bake at once.
They may be used for veal or oyster patties, or filled with jelly, jam or preserves, as tarts. Or shells may be made by lining patty-pans with paste. If the paste is light, the shells will be fine.
If they are filled with jelly and covered with meringue (tablespoonful of sugar to the white of one egg) and browned in oven, they are very nice to serve for tea.

TARTS
Larger pans are required for tarts proper, the size of small, shallow pie-tins; then after the paste is baked and cooled and filled with the jam or preserve, a few stars or leaves are placed on the top, or strips of paste, criss-crossed on the top, all of which have been previously baked on a tin by themselves.

Dried fruit, stewed until thick, makes fine tart pies, also cranberries stewed and well sweetened.


[Email This Article to a Friend] [Back To Pies, Pastry, & Related]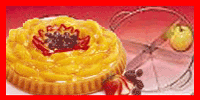 Helpful Tips
If the cutters of patties or shels for tarts are dipped in hot water, the edges of the tartlets will rise much higher and smoother when baking.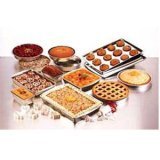 Pie à la Mode
A very attractive as well as appetizing way in which to serve pie is known as pie à la mode. This method of serving, which is often resorted to when something extra is desired, consists in placing a spoonful or two of ice cream of any flavor on each serving of apple or other fruit pie. Pie served in this way is high in food value and is a general favorite with persons who are fond of both ice cream and pie.

Pies - Cookbooks
Homemade Pies
Humble Pie
Art of Pie Making
All About Pies & Tarts
Pie & Tart
Pie and Pastry Bible
W/Sonoma Collection
More Making Pies