RECIPES FOR TARTS


TARTLETS AND TARTS


UTILIZING LEFT-OVER PASTRY


USES OF PUFF PASTE


RECIPES FOR PASTRY


APPLE TARTS


CREAM TARTS


OPEN JAM TARTS


CHOCOLATE TARTS


CREAM STRAWBERRY TARTS


APPLE TARTS
Pare, quarter, core and boil in half a cupful of water, until quite soft, ten large, tart apples; beat until very smooth and add the yolks of six eggs, or three whole ones, the juice and grated outside rind of two lemons, half a cap of butter; one and a half of sugar (or more, if not sufficiently sweet); beat all thoroughly, line patty-pans with a puff paste and fill; bake five minutes in a hot oven.

Meringue:
If desired very nice, cover them when removed from the oven with the meringue made of the whites of three eggs remaining, mixed with three tablespoonfuls of sugar; return to the oven and delicately brown.

CREAM TARTS
Make a rich, brittle crust, with which cover your patty-pans, smoothing off the edges nicely and bake well. While these "shells" are cooling, take one teacupful (more or less according to the number of tarts you want) of perfectly sweet and fresh cream, skimmed free of milk; put this into a large bowl or other deep dish, and with your egg-beater whip it to a thick, stiff froth; add a heaping tablespoonful of fine white sugar, with a teaspoonful (a small one) of lemon or vanilla. Fill the cold shells with this and set in a cool place till tea is ready.

OPEN JAM TARTS
Time to bake until paste loosens from the dish. Line shallow tin dish with puff paste, put in the jam, roll out some of the paste, wet it lightly with the yolk of an egg beaten with a little milk, and a tablespoonful of powdered sugar. Cut it in narrow strips, then lay them across the tart, lay another strip around the edge, trim off outside, and bake in a quick oven.

CHOCOLATE TARTS
Four eggs, whites and yolks, one-half cake of Baker's chocolate, grated, one tablespoonful of cornstarch, dissolved in water, three tablespoonfuls of milk, four of white sugar, two teaspoonfuls of vanilla, one saltspoonful of salt, one-half teaspoonful of cinnamon, one teaspoonful of butter, melted; rub the chocolate smooth in the milk and heat to boiling over the fire, then stir in the cornstarch. Stir five minutes until well thickened, remove from the fire and pour into a bowl. Beat all the yolks and the whites of two eggs well with the sugar, and when the chocolate mixture is almost cold, put all together with the flavoring and stir until light. Bake in open shells of pastry. When done, cover with a meringue made of the whites of two eggs and two tablespoonfuls of sugar flavored with a teaspoonful of lemon juice. Eat cold.

NOTE: These are nice for tea, baked in patty-pans.

CREAM STRAWBERRY TARTS
After picking over the berries carefully, arrange them in layers in a deep pie-tin lined with puff paste, sprinkling sugar thickly between each layer: fill the pie-tin pretty full, pouring in a quantity of the juice: cover with a thick crust, with a slit in the top and bake.

When the pie is baked, pour into the slit in the top of the pie the following cream mixture:
Take a small cupful of the cream, heat it until it comes to a boil, then stir into it the whites of two eggs beaten light, also a tablespoonful of white sugar and a teaspoonful of cornstarch wet in cold milk.
Boil all together a few moments until quite smooth; set it aside and when cool pour it into the pie through the slit in the crust.
Serve it cold with powdered sugar sifted over it.
NOTE: Raspberry, blackberry and whortleberry may be made the same.

[Email This Article to a Friend] [Back To Pies, Pastry, & Related]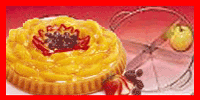 Helpful Tips
It is a rather difficult matter to make the exact amount of paste for the pies needed. If nothing more remains, there are usually small scraps left over from the trimming of the edge. These should by all means be put to some good use, for the material is equally as good as that which has been used in the pie and there is no reason why it should be wasted.
Use that left overmaterial for tarts and similar recipes.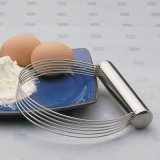 Pie à la Mode
A very attractive as well as appetizing way in which to serve pie is known as pie à la mode. This method of serving, which is often resorted to when something extra is desired, consists in placing a spoonful or two of ice cream of any flavor on each serving of apple or other fruit pie. Pie served in this way is high in food value and is a general favorite with persons who are fond of both ice cream and pie.

Pies - Cookbooks
Homemade Pies
Humble Pie
Art of Pie Making
All About Pies & Tarts
Pie & Tart
Pie and Pastry Bible
W/Sonoma Collection
More Making Pies

<!AMAZON_PRODUCT>