Puddings And Other Desserts
Proper attention to the rules, some practice, and excellent quality of ingredients used will ensure success in pudding preparation every time. Puddings are either boiled, baked or steamed.

Browse Tips & Recipes:

Puddings-Tips

Common Batter

Apple Dumplings And Puffets

Boiled Rice Dumplings With Custard Sauce

Recipes For Dumplings

Almond Puddings

Custard Puddings

Great Puddings

Bread Puddings

Chocholate Puddings

Orange Puddings

Apple Puddings

Cherry Puddings

Lemon Puddings

Peach Puddings

Prunes & Plums Puddings

Other Fruit Puddings

Rice Puddings

Royal Puddings

Yorkshire Pudding

Corn Meal Puddings

Recipes For Puddings

Other Puddings

Sauces For Puddings

OTHER RECIPES FOR BREADS, ROLLS, COOKIES, CAKES, ETC.



COMMON BATTER

For boiled puddings, fritters, etc., is made with one cupful of milk, a pinch of salt, two eggs, one tablespoon of melted butter, one cupful of flour and a small teaspoon of baking powder. Sift the flour, powder and salt together, add the melted butter, the eggs well beaten and the milk; mix into a very smooth batter, a little thicker than for griddle-cakes.



[Email This Article to a Friend]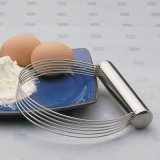 Helpful Tools
Pastry blender is great tool to have. You could actualy save time when cutting butter into flour for preparation of pie and/or pastry dough. Make sure to choose one with handle that is sturdy and comfortable to hold. The best are usually the ones with diamond shape blades, sharp enough to prevent sticky clogs as you work. Buy stainless steel with comfortable handle and also dishwasher safe. More...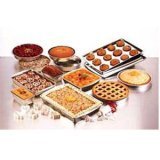 BAKED BERRY ROLLS

Roll rich biscuit dough thin, and cut it into little squares cca four inches wide and seven inches long. Spread over with berries. Roll up the crust, and put the rolls in a dripping pan just a little apart; put a piece of butter on each roll, put on some spices if you like. Strew over a large handful of sugar, a little hot water. Set in the oven and bake like dumplings. Serve with sweet sauce.

Pies - Cookbooks
Bestselling Cookbooks
Homemade Pies
Cooking Healthy
Desserts Cookbooks
Humble Pie
Art of Pie Making
All About Pies & Tarts
Pie & Tart
Pie and Pastry Bible
More Making Pies