DESSERTS
Much depends upon the baking. Many cakes, otherwise perfectly prepared are spoiled because the oven is too hot or not hot enough. Regulate the oven carefully before mixing the ingredients.

When making biscuits or bread with baking powder or soda and cream of tartar, the oven should be prepared first; the dough handled quickly and put into the oven immediately, as soon as it becomes the proper lightness, to ensure good success. If the oven is too slow, the article baked will be heavy and hard.

When a cake is thoroughly baked it shrinks from the sides of the pan. A light touch with the finger which leaves no mark is another indication that the cake is baked.


Browse Recipes:

MORE COOKIES


PASTRIES, PIES, TARTS AND MORE


CAKES AND RELATED


PUDDINGS AND OTHER DESSERTS


RECIPES FOR BREADS, BUNS, ROLLS, & MORE


ITALIAN DESSERTS


OTHER DESSERTS

OLD FASHIONED WARM BREADS AND ROLLS FOR BREAKFAST
Dough after it has become once sufficiently raised and perfectly light, cannot afterwards be injured by setting aside in any cold place where it cannot freeze; therefore, biscuits, rolls, etc., can be made late the day before wanted for breakfast. Prepare them ready for baking by molding them out late in the evening; lay them a little apart on buttered tins; cover the tins with a cloth, then fold around that a plastic bag, so as to exclude the air, as that has a tendency to cause the crust to be hard and thick when baked. The best place is to place them in the refrigerator, then all you have to do in the morning (an hour before breakfast time, and while the oven is heating) is to bring them from the refrigerator, take off the cloth and warm it, and place it over them again; then set the tins in a warm place. This will give them time to rise and bake when needed. If these directions are followed, you will find it makes no difference with their lightness and goodness, and you can always be sure of warm raised biscuits for breakfast in one hour's time.

[Email This Recipe to a Friend]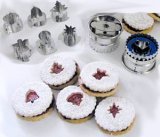 Helpful Tips
To Renew Stale Biscuits And Rolls:To freshen stale biscuits or rolls, put them into a steamer for ten minutes, then dry them off in a hot oven; or dip each roll for an instant in cold water and heat them crisp in the oven.
Preparing & Baking Tips
Complete with a tin storage, this great set of 11 round, stainless-steel cookie cutters comes in handy for all seasons. The cutters range in size from 3/4 inch high to 3-5/8 inches high, and they have rolled edges on top to protect fingers during the cutting process.
Dishwasher-safe.
More Cookie Cutters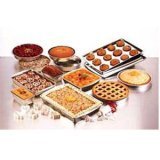 Cookbooks
Cookies - Cookbooks
Christmas Cookies
Baking Cookbooks
Pies - Cookbooks