Apricot Almond Energy Bars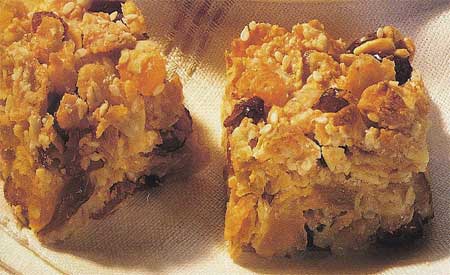 Ingredients:



3 cups any flaked cereal
3/4 cup chopped dried apricots
3/4 cup toasted slivered almonds
1/2 cup quick cooking oats (not instant)
2 tablespoons sesame seeds
2 tablespoons butter, melted
1 can sweetened condensed milk


Directions:

In large bowl, stir together cereal, apricots, almonds, oats, sesame seeds and butter.
Stir in condensed milk until well combined.
Press into greased 13 x 9-inch (33 x 23 cm) baking pan.
Bake in 325°F (160°C) oven for 25 to 30 minutes or until golden brown.
When cool, cut into bars 4 x 1½-inch (10 x 4 cm).
Store at room temperature in tightly covered container.


Makes 16 bars.


NOTE: Reduce oven temperature by 25°F (10°C) if you are using glass pan.




Email this info to Friend

Browse Pages


Breads & Related

Cakes & Related

Cookies

Amazing Pies

Pastries

Puddings

Eggs

Fruit

Rice

Vegetarian

Tasty Dips

Soups & Related

Cooking With Kids

Herbs & Spices

Special Occasion

Miscellaneous

Recommended Products

Did You Know?

The apricot was known in Armenia during ancient times, and has been cultivated there for so long that it is often thought to have originated there. Its scientific name Prunus armeniaca (Armenian plum) derives from that assumption. An archaeological excavation at Garni in Armenia found apricot seeds in an Eneolithic-era site. And there are about 50 different varieties of apricots grown in Armenia today.

However, the Vavilov center of origin locates the origin of the apricot's domestication in the Chinese region, and other sources say the apricot was first cultivated in India in about 3000 BC.

Learn to Eat Healthy is not a traditional diet book with strict rules and limitations. Here you will find great tips and ideas for healthy cooking and good guidelines to control your health, your eating habits and your weight without strict dieting rules. This book is simply an easy to read and follow guidebook with over hundred, easy to prepare, healthy, and tasty recipes with full nutritional information, and step by step instructions.
More...