Puddings & Pudding Sauces
Many kinds of puddings are used for desserts. Some of them closely resemble cake mixtures, while others are similar to custards, but are thickened with a cooked or a raw starchy material. To improve the flavor of puddings, sauces of a contrasting flavor are usually served with them.

Formerly, puddings were always boiled in a bag, but now desserts of this kind are prepared by boiling, steaming, or baking.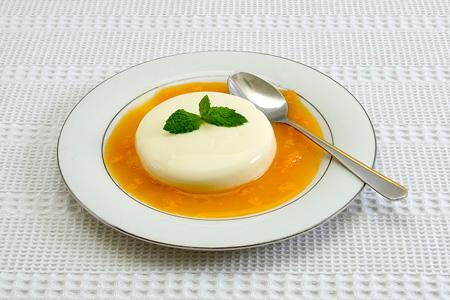 BROWSE RECIPES & RELATED TOPICS:


Email this info to Friend

Browse Pages


Breads & Related

Cakes & Related

Cookies

Amazing Pies

Pastries

Puddings

Eggs

Fruit

Rice

Vegetarian

Tasty Dips

Dressings

Soups & Related

Cooking With Kids

Herbs & Spices

Special Occasion

Miscellaneous

Recommended Products

Helpful Tips

Puddings are often considered to be rather indigestible foods and in many cases this is true. For this reason, it is not wise to include them to any great extent in the diet of older people and very young children.

Because of the ingredients used in them, they are a heavy food and are usually high in food value. Consequently, some thought should be given to their selection so that they may be suitable for the rest of the meal in which they are served. It seems to be the custom to serve a rich dessert with a heavy meal, but, as is well known, it is less proper with such a meal than with a light meal. A little attention given to this matter will enable you to prepare menus that will provide your family with a properly balanced meal.

The time of day and the season of the year for the serving of puddings are also matters that should receive consideration. It is much better to serve desserts of this kind with a noon meal than with an evening meal. Then, too, warm puddings with sauce will be found much more appetizing in the cool season of the year than in warm weather. On the other hand, cool desserts or fruits served as desserts are very much more acceptable in warm weather than during the cold seasons.