Herbs & Spices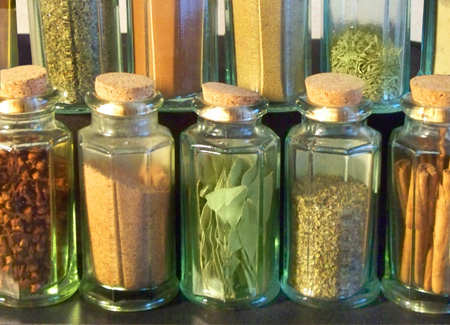 BROWSE RECIPES:
HERBAL TIP:

If you don't have Italian seasoning, prepare mixture of herbs: 1/4 teaspoon dried basil, 1/4 teaspoon dried marjoram, 1/4 teaspoon dried oregano and 1/4 teaspoon dried thyme.
Spices are secret "friends" of every serious cook. We usually don't see them on the table. They never played leading roles in front of our friends or family such as those of the meat, salads or favorite dessert. But, they are very important members of "the cast" which performed the small, yet important part in the production of the pleasing tout ensemble
of soup, stew, sauce, salad or any other popular dish. They make that unforgettable taste what lingers in our memory long after the main actors are forgotten.

Read more...


Email this info to Friend

Browse Pages


Breads & Related

Cakes & Related

Cookies

Amazing Pies

Pastries

Puddings

Eggs

Fruit

Rice

Vegetarian

Tasty Dips

Dressings

Soups & Related

Cooking With Kids

Herbs & Spices

Special Occasion

Miscellaneous

Recommended Products

Helpful Tips

Healing Power of Flax Seeds
Dietary fibers have been proposed to play a role in cardiovascular risk as well as body weight management. Flaxseeds are a good source of dietary fibers, and a large proportion of these are water-soluble viscous fibers. Flaxseed dietary fibers lower cholesterol and increase fecal fat excretion, but magnitude of effect depend on food type...