Seafood Recipes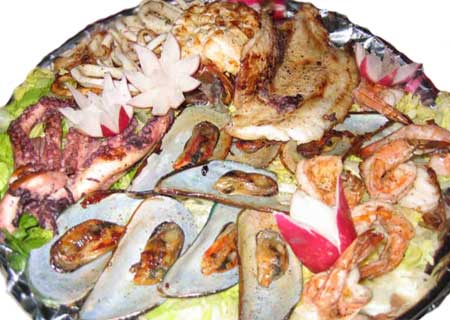 Once having mastered the five primary methods of preparing fish (baking, boiling, broiling, frying and stewing), and learned also how to make tasty sauces, the variety of dishes within the cook's power is great and any cook will know how to prepare any kind of fish. All that is required is confidence in the rules, which are perfectly reliable, and will always bring about a satisfactory result if followed carefully.

Fish should be washed quickly in only one (cold) water, and should not be allowed to stand in it. If it is cut up before cooking, wash while whole, else much of the flavor will be lost.

For frying, the fat should be deep enough to cover the article, and yet have it float from the bottom. Unless one cooks great quantities of fish in this way it is not necessary to have a separate pot of fat for this kind of frying. The same pot, with proper care, will answer for chops, cutlets, muffins, potatoes, croquettes, etc.

All the cold fish leftovers, from any cooking method, can be utilized in making delicious salads, croquettes, and escallops.


BROWSE RECIPES:



Email this info to Friend

Browse Pages


Breads & Related

Cakes & Related

Cookies

Amazing Pies

Pastries

Puddings

Eggs

Fruit

Rice

Vegetarian

Tasty Dips

Dressings

Soups & Related

Cooking With Kids

Herbs & Spices

Special Occasion

Miscellaneous

Recommended Products


Fish Tips

Some basic things you should know about fish:
Fish, to be healthy and eatable, should be perfectly fresh. Nothing else in the line of food deteriorates so rapidly, especially the white fish-those that are nearly free of oil, like cod, cusk, etc. Most of the oil in this class centres in the liver. Salmon, mackerel, etc., have it distributed throughout the body, which gives a higher and richer flavor, and at the same time tends to preserve the fish.

If the fish is kept on ice until used, it will retain much of its freshness; let it once get heated and nothing will bring back the delicate flavor.

Fresh fish will be firm, and the skin and scales bright. When fish looks dim and limp, do not buy it.

People who do not live near the seashore do not get that delicious flavor which fish just caught have.