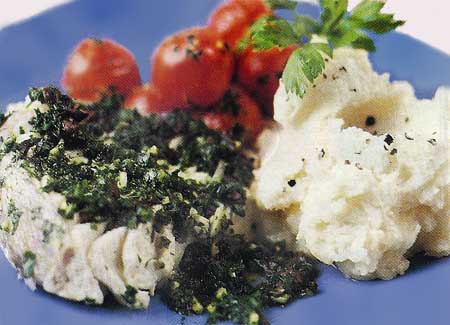 Ingredients:
1-1/2 lb (681 g) all-purpose potatoes, peeled and thinly. sliced
3/4 teaspoon salt, divided
1/2 cup (125 mL) chopped parsley
6 Kalamata olives, pitted and' finely chopped
1 clove garlic, minced
4 teaspoons (20 ml) olive oil
2 tablespoons (30 ml) fresh lemon juice
4 cod steaks (8 oz / 228 g each)
Cherry tomatoes and fresh parsley leaves for garnish (optional)

Directions:
Preheat oven to 400°F (200°C).
Combine potatoes, 1/4 teaspoon salt, and water to cover by 1 inch (2.5 cm) in medium saucepan. Bring to a boil, reduce to a simmer, and cook until potatoes are tender, about 15 to 20 minutes. Drain, reserving 2 tablespoons potato cooking liquid.
Meanwhile, combine 1/4 teaspoon salt, parsley, olives, garlic, and 2 teaspoons olive oil in small bowl; set aside.
Place cod in baking pan large enough to hold it in a single layer. Sprinkle lemon juice over cod and spoon parsley-olive mixture on top. Bake until cod is cooked through, about 10 to 12 minutes.
Return potatoes to pan. Add remaining 1/4 teaspoon salt, reserved potato cooking liquid, and remaining 2 teaspoons olive oil. Mash with a potato masher. Serve cod with potatoes on side.
Makes 4 servings.