Sole Baked on a Bed of Vegetables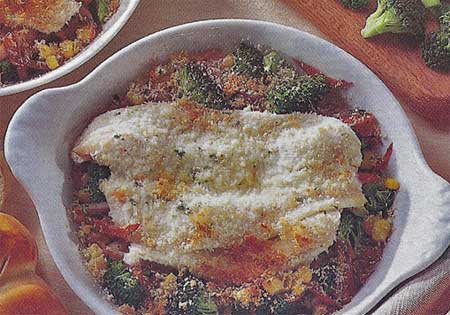 Ingredients:



4 sole fish fillets (4-6 oz each), fresh or frozen and thawed
2 tablespoons Italian dressing
1 tablespoon dry bread crumbs
1 tablespoon grated Parmesan cheese
1/4 teaspoon paprika
1 tablespoon extra virgin olive oil
2 cups broccoli florets
1 cup fresh or frozen corn kernels, thawed
1 sweet red pepper, cut into thin strips
1 small red onion, thinly sliced
2 tablespoons chopped fresh parsley
1 tablespoon chopped fresh basil
1/8 teaspoon salt
1/8 teaspoon ground black pepper



Directions:



Place fish in shallow baking dish and brush lightly with Italian dressing. Cover and refrigerate.
In small bowl, combine bread crumbs with Parmesan cheese and paprika until blended.
Preheat oven to 425°F (220°C).
Brush 4 individual or one 13" x 9" x 2" (33 x 23 x 5 cm) ovenproof dish with oil.
In large bowl, combine broccoli, corn, red pepper, onion, parsley, basil, salt, and pepper.
Divide vegetable mixture evenly among dishes and cover with parchment paper or aluminum foil and bake until vegetables are just tender, about 35 to 40 minutes.

Uncover dishes and top vegetables with fish fillets. Cover again and bake until fish is barely cooked and still moist in thickest part, about 8 to 10 minutes.
Uncover dishes, sprinkle with bread crumb mixture, and continue to bake, uncovered, until topping is golden, about 2 to 3 minutes.


Makes 4 servings.



Note:

If you don't have sole fish fillets, you can use any other firm white fish fillets.


Email this info to Friend

Browse Pages


Breads & Related

Cakes & Related

Cookies

Amazing Pies

Pastries

Puddings

Eggs

Fruit

Rice

Vegetarian

Tasty Dips

Dressings

Soups & Related

Cooking With Kids

Herbs & Spices

Special Occasion

Miscellaneous

Recommended Products


Helpful Tips

The flesh of good, fresh fish is firm and hard, and will respond at once to pressure with the fingers. If the flesh feels soft and flabby, the fish is not fresh. The eyes should be full and bright and the gills of a clear red color.
To Clean a Stained Vinegar or Wine Bottle on the Inside:


Put into it pebblestones, or beans. Fill it with a strong dish soap solution, and one teaspoon of baking soda or ammonia. Let stand an hour, shake well and often. Rinse with clean warm water.