Baked Rice Pudding
Serve this warm, comforting dessert with fresh cream and a sprinkle of cinnamon.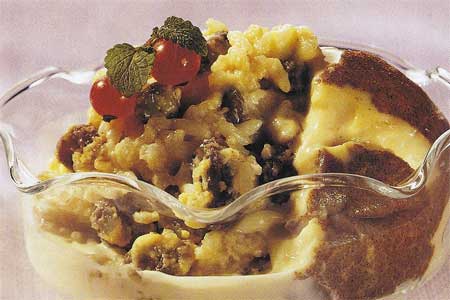 Ingredients:
l/2 cup long grain rice
1 cup water
1/4 teaspoon salt
4 eggs
2½ cups milk
1 can (300 ml) sweetened condensed milk
2 teaspoon vanilla
1 teaspoon cinnamon
1/4 teaspoon nutmeg
1/2 cup raisins
Table cream and ground cinnamon

Directions:
Cook rice in boiling salted water about 15 minutes or until tender; fluff with fork.
In large bowl, whisk together eggs, milk, condensed milk, vanilla, cinnamon and nutmeg.
Stir in hot rice and raisins.
Pour into 10 to 12 cup (2.5 to 3 L) oven casserole.
Cover and place casserole in large shallow pan. Pour boiling water into pan half way up sides of casserole.
Bake in 325°F (l60°C) oven for 20 minutes; remove cover and stir.
Bake, uncovered, for 40 to 50 minutes longer or until knife inserted in centre comes out clean.
Serve hot or cold with cream and cinnamon, if desired.
Makes 6 to 8 servings.