This book is simply an easy to read and follow guidebook with over hundred, easy to prepare, healthy, and tasty recipes with full nutritional information, and step by step instructions.
More...

Banana-Blueberry Muffin Tops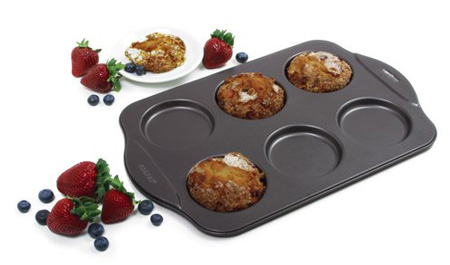 Great for Baking Muffin Tops! Buy This Nonstick Puffy Muffin Crown Pan
Ingredients:



1 cup quick-cooking rolled oats (not instant)
1 cup all-purpose flour
1/2 cup oat bran
1/2 cup granulated sugar
1/3 cup flaked coconut (optional)
1 teaspoon baking powder
1 teaspoon ground cinnamon
1/2 teaspoon baking soda
1/3 teaspoon salt
1 cup mashed ripe bananas
1/2 cup low-fat plain yogurt
3 tablespoons butter, melted
1 egg
1 teaspoon vanilla
1 cup fresh blueberries



Directions:



Spray two 6-cup muffin top pans with cooking spray and set aside.

Preheat oven to 375º F.
In a large bowl, combine oats, flour, oat bran, sugar, coconut (if using), baking powder, cinnamon, baking soda and salt. Mix well.

In another bowl, whisk together bananas, yogurt, butter, egg and vanilla.
Add wet ingredients to dry ingredients and mix just until just combined. Batter will be thick.

Gently fold in blueberries and divide mixture evenly among muffin top cups.

Bake for 13 to 15 minutes, or until muffin tops are puffed up. Check with a toothpick inserted in the centre, and if toothpick comes out clean, remove muffin tops from pans. Cool on a wire rack for couple minutes before serving.

Makes 12 large muffin tops.
NOTE:

Once you try this recipe, you will never make muffins in regular pan again!
Per muffin top:

169 calories, 4.4 g fat (2.2 g saturated fat), 4 g protein, 31 g carbohydrate, 2.5 g fibre, 26 mg cholesterol, 108 mg sodium
CLICK HERE
to find more muffin top pans!


Email this info to Friend

Browse Pages


Breads & Related

Cakes & Related

Cookies

Amazing Pies

Pastries

Puddings

Eggs

Fruit

Rice

Vegetarian

Tasty Dips

Soups & Related

Cooking With Kids

Herbs & Spices

Special Occasion

Miscellaneous

Recommended Products

Helpful Tips

Bread flour usually contains more gluten than pastry flour and is better for bread on that account. Rye flour is next best to wheat flour for bread making, but is generally combined with wheat flour, since by itself it makes a sticky bread.
Pastry flour having less gluten and slightly more starch is more suitable for pastry and cake mixtures and is used wherever softness and lightness are desired.