This book is simply an easy to read and follow guidebook with over hundred, easy to prepare, healthy, and tasty recipes with full nutritional information, and step by step instructions.
More...

Cardamom Loaf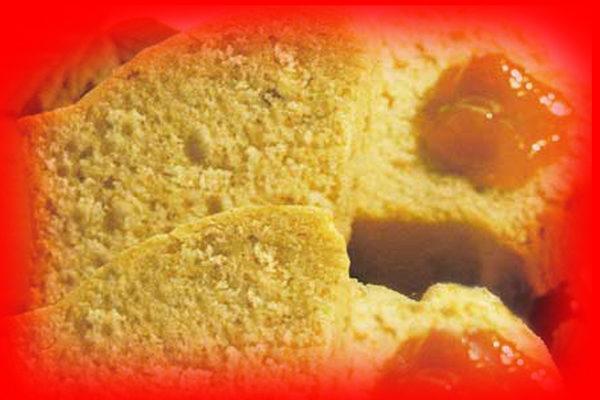 Ingredients:
1/2 cup butter
2/3 cup granulated sugar
2 large eggs
1 teaspoon vanilla
2 cups all purpose flour
2 teaspoons baking powder
2 teaspoons ground cardamom
1/4 teaspoon salt
2/3 cup milk

Directions:
In large bowl, cream butter and sugar, with electric mixer, until fluffy. Beat in eggs and vanilla.

In separate bowl, sift together flour, baking powder, cardamom and salt.

Stir flour mixture into creamed mixture into creamed mixture alternately with milk until well combined.

Pour into greased 8

½ x 4½-inch (22 x 11 cm)

loaf pan; smooth top with knife.

Bake in 325° F (160° C) oven for 55 to 60 minutes or until tester inserted in centre comes out clean.

Let cool in pan 5 minutes before turning out onto rack to cool completely.

Slice to serve.
Makes 1 loaf.
NOTE:

Reduce oven temperature by 25° F (10° C) for glass pan.


Email this info to Friend

Browse Pages


Breads & Related

Cakes & Related

Cookies

Amazing Pies

Pastries

Puddings

Eggs

Fruit

Rice

Vegetarian

Tasty Dips

Soups & Related

Cooking With Kids

Herbs & Spices

Special Occasion

Miscellaneous

Recommended Products

Did You Know?

Cardamom
Cardamom
is the world's third most expensive spice by weight, outstripped in terms of its market value by only saffron and vanilla.

Green cardamom is one of the most expensive spices by weight, but little is needed to impart the flavor. Cardamom is best stored in pod form because once the seeds are exposed or ground they quickly lose their flavor. However, high-quality ground cardamom is often more readily (and cheaply) available and is an acceptable substitute. For recipes requiring whole cardamom pods, a generally accepted equivalent is 10 pods equals 1½ teaspoons of ground cardamom.

CLICK HERE to Buy Cardamom