This book is simply an easy to read and follow guidebook with over hundred, easy to prepare, healthy, and tasty recipes with full nutritional information, and step by step instructions.
More...

Peanut Butter Banana Muffins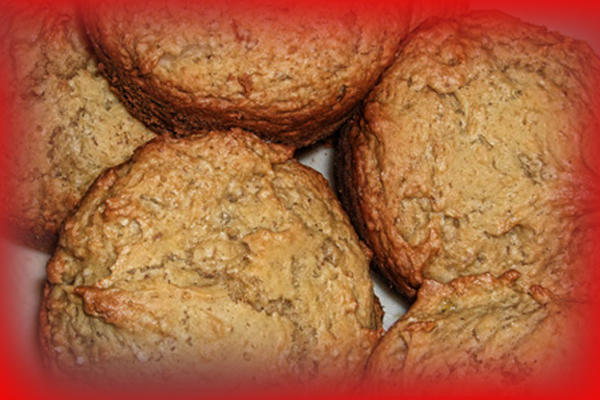 Ingredients:



2 eggs, lightly beaten
1/2 cup honey
1/2 cup olive oil
1 cup mashed banana
1/2 cup peanut butter
1 teaspoon vanilla
1¼ cups all-purpose flour
1 cup Bran Flakes cereal
1 tablespoon baking powder
1/2 teaspoon baking soda
1/3 teaspoon salt


Directions:

In a mixing bowl, combine eggs, honey, oil, mashed banana, peanut butter and vanilla. Mix well and set aside.
In another bowl combine flour, cereal, baking powder, baking soda and salt.
Preheat oven to 400ºF (200º C).

Add dry ingredients to wet mixture and stir until just moist.
Spoon mixture in 12 greased muffin tins, filling 3/4 full.
Bake muffins for 15 to 20 minutes or until lightly browned.
When done, remove from pan and cool on rack.

Makes 12 muffins.


Nutrition per serving (1 muffin): 278 Calories; 5.7 g Protein; 15.7 g Fat; 31.7 g Carbohydrate; 2.1 g Dietary Fibre.




Email this info to Friend

Browse Pages


Breads & Related

Cakes & Related

Cookies

Amazing Pies

Pastries

Puddings

Eggs

Fruit

Rice

Vegetarian

Tasty Dips

Soups & Related

Cooking With Kids

Herbs & Spices

Special Occasion

Miscellaneous

Recommended Products

Did You Know?

Healing Power of Flax Seeds


Dietary fibers have been proposed to play a role in cardiovascular risk as well as body weight management. Flaxseeds are a good source of dietary fibers, and a large proportion of these are water-soluble viscous fibers. Flaxseed dietary fibers lower cholesterol and increase fecal fat excretion, but magnitude of effect depend on food type...