Apple Streusel Coffee Cake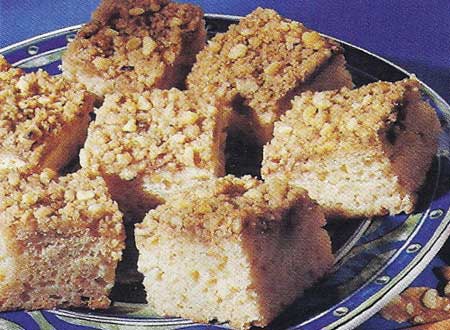 Ingredients for Streusel:



2/3 cup packed brown sugar
1/2 cup all purpose flour
1 teaspoon cinnamon
1/3 cup butter, softened
2/3 cup chopped walnuts



Ingredients for Cake:



2½ cups all purpose flour
2 teaspoons baking powder
1/2 teaspoon baking soda
1/2 teaspoon salt
1/3 cup butter, softened
1¼ cups packed brown sugar
2 eggs
1¼ cups cottage cheese
2 teaspoons vanilla
2 medium apples, peeled and coarsely chopped



Directions:



For streusel, combine brown sugar, flour and cinnamon; mix in butter with fork or food processor until crumbly. Add nuts; set aside.

For cake, combine flour, baking powder, baking soda and salt; set aside.

In large mixing bowl, beat butter and brown sugar until light and fluffy.

Add eggs, cottage cheese and vanilla and beat until well blended.

Blend in flour mixture. Fold in apples.

Spread mixture evenly in greased 13x9" (33x23cm) baking pan.
Sprinkle evenly with streusel.

Bake at 350°F (180°C) for 40-45 minutes or until wooden pick inserted in centre comes out clean.

Cool on rack. Serve warm.

Makes 16 servings.



Email this info to Friend

Browse Pages


Breads & Related

Cakes & Related

Cookies

Amazing Pies

Pastries

Puddings

Eggs

Fruit

Rice

Vegetarian

Tasty Dips

Soups & Related

Cooking With Kids

Herbs & Spices

Special Occasion

Miscellaneous

Recommended Products

Great Cookbooks
Learn to Eat Healthy is not a traditional diet book with strict rules and limitations. Here you will find great tips and ideas for healthy cooking and good guidelines to control your health, your eating habits and your weight without strict dieting rules. You'll discover that preparing your own food is fun and easy and your healthy diet is delicious. In fact, the main reason why most of those quick fix diets will fail you from the start is because they ignore the way normal people want to live. This book is simply an easy to read and follow guidebook with over hundred, easy to prepare, healthy, and tasty recipes with full nutritional information, and step by step instructions.
More...