Chocolate Hazelnut Meringue Torte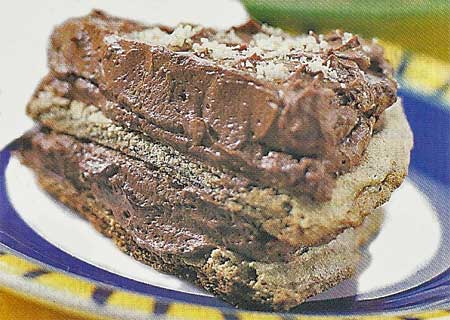 Ingredients:



3 egg whites, at room temperature
Pinch of salt
3/4 cup granulated sugar
1 tablespoon instant coffee granules
1 teaspoon cinnamon
1 teaspoon vanilla
1/2 cup finely ground hazelnuts (almonds or pecans) preferably toasted
12 oz bittersweet chocolate (or milk chocolate), chopped
2 cups whipping cream



Directions:



Preheat oven to 250ºF (100ºC).
Trace a 9-inch (23-cm) circle on 2 pieces of waxed paper. Place upside down on cookie sheets and butter paper.

Beat egg whites with salt until frothy.
Blend sugar with coffee granules, cinnamon and vanilla. Add to egg mixture by tablespoon until whites are stiff and glossy, about 4 minutes. Fold in 1/3 cup ground hazel nuts.
Divide meringue between the two sheets of waxed paper, and spread following outline. Bake in preheated oven about 1 hour, until crisp. Cool on a rack and carefully remove paper.
Meanwhile, stir chocolate and 1/3 cup whipping cream in top of a double boiler set over medium heat until chocolate is melted. Cool, making sure it's still liquid.

Beat remaining whipping cream in a large bowl until soft peaks form.

Remove about 1/2 cup whipped cream and set aside.
Fold chocolate and remaining whipped cream together.
Place 1 meringue layer on a serving plate and spread half the chocolate cream mixture to edges. Top with other meringue layer and remaining chocolate cream mixture. Sprinkle with remaining hazelnuts.

Serve with reserved whipped cream.


Makes 12 servings.



Per serving:

357 calories, 4.8 g protein, 25.2 g fat, 31 $ carbohydrates, 1.1 g dietary fibre, 95 mg calcium, 0.7 mg iron, 5 mcg folacin. Good source of vitamin A and vitamin B12.


Email this info to Friend

Browse Pages


Breads & Related

Cakes & Related

Cookies

Amazing Pies

Pastries

Puddings

Eggs

Fruit

Rice

Vegetarian

Tasty Dips

Soups & Related

Cooking With Kids

Herbs & Spices

Special Occasion

Miscellaneous

Recommended Products

Great Cookbooks
Learn to Eat Healthy is not a traditional diet book with strict rules and limitations. Here you will find great tips and ideas for healthy cooking and good guidelines to control your health, your eating habits and your weight without strict dieting rules. You'll discover that preparing your own food is fun and easy and your healthy diet is delicious. In fact, the main reason why most of those quick fix diets will fail you from the start is because they ignore the way normal people want to live. This book is simply an easy to read and follow guidebook with over hundred, easy to prepare, healthy, and tasty recipes with full nutritional information, and step by step instructions.
More...