This book is simply an easy to read and follow guidebook with over hundred, easy to prepare, healthy, and tasty recipes with full nutritional information, and step by step instructions.
More...

How to Make Poached or Dropped Eggs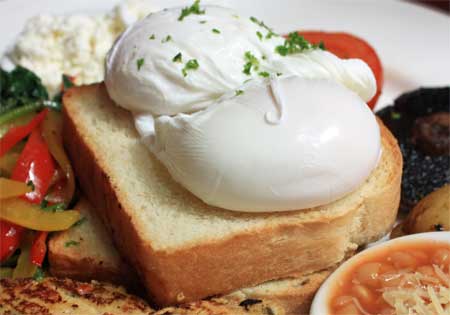 Break each egg into a saucer by itself. Have a shallow pan half filled with scalding, not boiling, water on the stove. If desired, a little salt and a tablespoon of lemon juice may be added.
Slip the eggs gently from the saucer upon the top of the water, holding the edge of the saucer under water to prevent the eggs from scattering; dip the water over them with a spoon and let them stand five minutes, or until the yolk is covered with a film, and the white is firm but not hardened; keep the water just below the boiling point.
Meanwhile, if you are using toast, prepare it and keep it warm.
Take out the eggs one by one on a skimmer, and serve in egg-saucers, or on slices of nicely browned toast moistened with a little sweet cream or tomato sauce, as preferred.

NOTE: If one is especially particular to keep the shape of the poached eggs, an egg poacher should be used, or a set of metal muffin-rings or large metal cookie cutters may be laid in the bottom of the pan, and the eggs turned into them.