This book is simply an easy to read and follow guidebook with over hundred, easy to prepare, healthy, and tasty recipes with full nutritional information, and step by step instructions.
More...

Spinach Quiche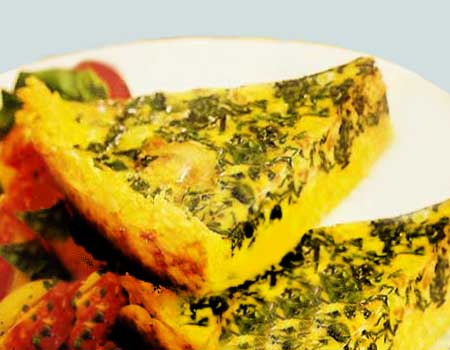 Ingredients:



l½ cups cooked rice
1 cup shredded Mozzarella cheese
6 eggs
1/2 teaspoon curry powder
1/4 cup evaporated milk (2%)
1 package (10 oz) frozen chopped spinach, thawed and drained
1/2 cup sliced fresh white mushrooms
2 tablespoons chopped green onions
1/2 cup Cheddar cheese
1/4 teaspoon garlic powder
1/4 teaspoon garlic salt
1/4 ground black pepper


Directions:

Combine rice, 1/2 cup Mozzarella cheese, 1 egg and curry powder. Press on the bottom and up the sides of a 9-inch (23 cm) oven-proof pie plate. Bake in a 350°F (l80°C) oven for 5 to 6 minutes.
Meanwhile, beat together remaining 5 eggs and milk. Combine with spinach, mushrooms, green onions, garlic salt, garlic powder, pepper and 1/2 cup Cheddar cheese. Pour into pre-baked crust.
Bake for about 25 to 30 minutes or until a knife inserted in the centre comes out clean. Let stand for 5 minutes before serving.



Makes 8 servings.




TIPS:

Spinach quiche can be covered and refrigerated for up to three days.

For a tasty lunch, put quiche in microwave safe plastic container; it can be reheated in the microwave oven until just warm.