Creamy Rotini with Sundried Tomatoes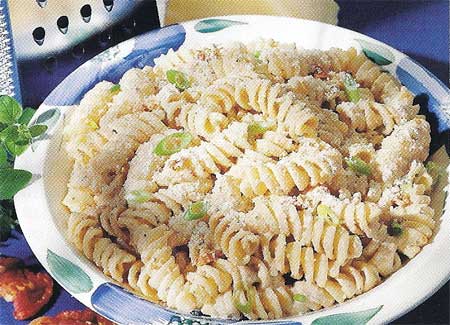 Ingredients:



3 cups rotini pasta
3/4 cup chicken broth
1/3 cup chopped sundried tomatoes
2 cups cottage cheese
1/3 cup grated Parmesan cheese
2 cloves garlic, minced
1 teaspoon dried basil
1 teaspoon dried oregano
1/4 teaspoon crushed red pepper flakes
2 green onions, sliced
Ground Parmesan cheese for garnish (optional)
Additional green onions for garnish (optional)




Directions:



Cook rotini according to package directions.
Meanwhile, in a saucepan bring chicken broth and tomatoes to boil. Let stand to soften tomatoes, about 5 minutes.
In food processor or blender, process cottage cheese until smooth.
Add tomato mixture, Parmesan cheese, garlic, herbs and crushed red pepper flakes; process until well blended.
Drain pasta. Add sauce and green onions to pasta pot, place over low heat and gradually stir in pasta.
Remove from heat and serve immediately.
Sprinkle with additional green onions and Parmesan cheese, if desired.

Makes 4 servings.



Email this info to Friend

Browse Pages


Breads & Related

Cakes & Related

Cookies

Amazing Pies

Pastries

Puddings

Eggs

Fruit

Rice

Vegetarian

Tasty Dips

Dressings

Soups & Related

Cooking With Kids

Herbs & Spices

Special Occasion

Miscellaneous

Recommended Products

Helpful Tips

Rotini is a type of helix- or corkscrew-shaped pasta. The name derives from the Italian for twists. It is related to fusilli, but has a tighter helix, i.e. with a smaller pitch. It should not be confused with rotelle ("wagon wheel" pasta).

Rotini originated from Northern Italy and the tight twists help them retain a wide variety of sauces better. They are often used in pasta salads with pesto or tomato-based sauces.

Rotini is most often made from refined (white) wheat flour, although varieties made from whole wheat flour, brown rice, or other grains are also available.

In the US these may also be called colloquially "Scroodle," "Scroodle Noodles," "Scrotini," "Skroodle," "Scroodle Macaroni," or "Corkscrews."