Linguine with Mushrooms & Roasted Red Peppers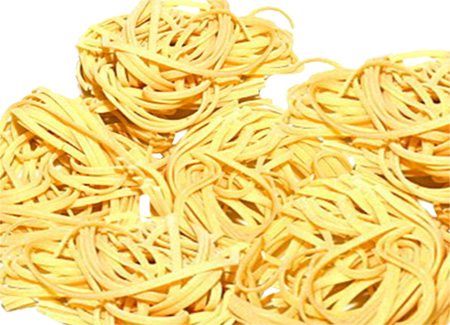 Ingredients:



1½ lb fresh linguine pasta
1 lb (500 g) mushrooms or exotic mushrooms, sliced, (such as shiitake, oyster, chanterelle)


1 tablespoon butter


1 onion, finely chopped


1 teaspoon dried oregano




1 clove garlic, minced




2 cups heavy cream




1 tablespoon lemon juice




1/2 teaspoon salt


1/4 teaspoon pepper
2 roasted sweet red peppers, chopped




Directions:



In saucepan, melt butter over medium heat; cook onion, sliced mushrooms, garlic, and origano stirring often, for 8 to 10 minutes or until liquid remains.
Stir in heavy cream, lemon juice, salt and pepper; bring to boil. Reduce heat and simmer for 5 minutes or until thickened enough to coat back of spoon.
Stir in roasted sweet red peppers.

Meanwhile, in large pot of boiling salted water, cook pasta for about 5 minutes or until tender but firm; drain well and return to pot.
Add sauce and toss to coat.
Makes 6 servings.


Email this info to Friend

Browse Pages


Breads & Related

Cakes & Related

Cookies

Amazing Pies

Pastries

Puddings

Eggs

Fruit

Rice

Vegetarian

Tasty Dips

Dressings

Soups & Related

Cooking With Kids

Herbs & Spices

Special Occasion

Miscellaneous

Recommended Products

Did You Know?

Linguine (also misspelled 'Linguini') is a form of pasta — flat like fettuccine and trenette. Linguine originated in Genoa and the Liguria of Italy. It is wider than spaghetti, about 6mm to 9mm, but not as wide as fettuccine. The name linguine means "little tongues" in Italian, where it is a plural of the feminine linguina. Linguine are also called trenette or bavette. A thinner version of linguine is called linguettine.

While spaghetti traditionally accompanies meat and tomato dishes, linguine are often served with seafood or pesto. Linguine is typically available in both white-flour and whole-wheat versions; the latter are usually made in Italy. Because the individual strands of linguine are bulkier than spaghetti, and thus have a higher ratio of volume to surface area, linguine must be cooked slightly longer in order to achieve the same degree of doneness.