Pasta Carbonara
This popular classic Italian pasta dish is a remarkable assembly of flavours and is an easy to make recipe. From weekdays to special gettogethers, this sensational meal is a hit every time!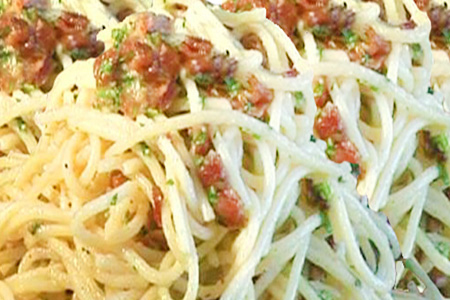 Ingredients:



1 lb uncooked spaghetti
5 eggs
3/4 cup grated Parmesan cheese
2 tablespoons finely chopped fresh parsley
2 tablespoons butter
2 cloves garlic, minced
1/2 cup whipping cream
2 strips bacon, cooked and crumbled
Salt and freshly ground pepper, to taste


Directions:

In boiling salted water, cook spaghetti according to package directions.
While spaghetti is cooking, beat together eggs, cheese and parsley until blended. In a large skillet over medium-high heat, melt butter.
Add garlic and saute until golden brown, about 2 minutes.
Add whipping cream and bring to simmer.
Add drained spaghetti (do not rinse), egg and cheese mixture and crumbled bacon. Over medium-low heat, toss until eggs thicken and coat spaghetti, 2 to 3 minutes. Season to taste.
Serve immediately.

Makes 4 servings.


Email this info to Friend

Browse Pages


Breads & Related

Cakes & Related

Cookies

Amazing Pies

Pastries

Puddings

Eggs

Fruit

Rice

Vegetarian

Tasty Dips

Dressings

Soups & Related

Cooking With Kids

Herbs & Spices

Special Occasion

Miscellaneous

Recommended Products

Did You Know?

Many pasta types are made of the same pasta dough and differ only in the shape of the pieces. However, the shape usually affects cooking time, consistency, ability to hold sauce, ease of eating, etc. Therefore, certain shapes are better suited for certain dishes, and such pairings may be part of certain cooking traditions.

More...