Pasta with Chicken & Asparagus Sauce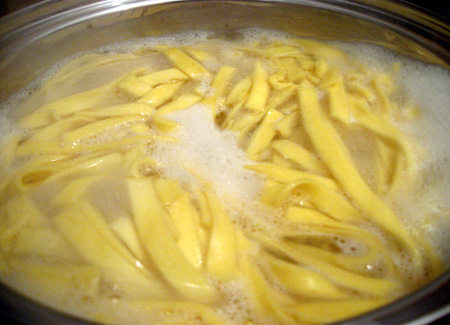 Ingredients:



1½ lb fresh linguine pasta
1 tablespoon butter
1 small onion, finely chopped
1 clove garlic, minced
2 cups heavy cream
3 tablespoons vodka
2 tablespoons lemon juice
1/2 teaspoon salt
1/4 teaspoon pepper
2 cups barbecued chicken, cut in strips
3 cups cooked asparagus pieces
1 cup chopped fresh basil


Directions:

In saucepan, melt butter over medium heat; cook onion and garlic, stirring often, for 5 minutes or until softened.
Stir in heavy cream, vodka, lemon juice, salt and pepper; bring to boil. Reduce heat and simmer for 5 minutes or until thickened enough to coat back of spoon.
Stir in basil, chicken and cooked asparagus pieces.
Meanwhile, in large pot of boiling salted water, cook pasta for about 5 minutes or until tender but firm; drain well and return to pot.
Add sauce and toss to coat.
Makes 6 servings.