Tuna Noodle Casserole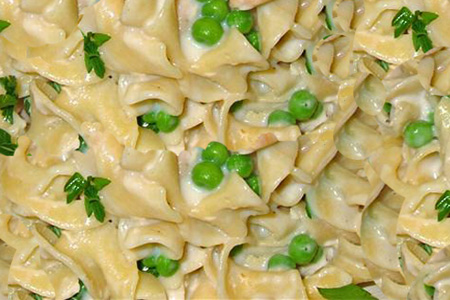 Ingredients:



2½ cups dry medium noodles
1 cup frozen peas
1 can (10 oz) condensed cream of celery soup
1/2 cup milk
1 can tuna (6.5 oz/184 g), drained and flaked
1 cup shredded Cheddar cheese
Paprika


Directions:

Prepare noodles according to package directions. Add peas for last 5 minutes of cooking time. Drain.
In 8-cup (2 L) casserole dish, combine soup, milk, tuna and half of cheese. Stir in noodles and peas. Top with remaining cheese. Sprinkle with paprika.
Bake at 400°F (200°C) for 20 to 25 minutes or until bubbling and hot.


Makes 4 servings.


Tip: You can use condensed cream of celery soup to prepare the quick and tasty cheese sauce. To make 2 cups of sauce; simply heat 1 can (10 oz) soup with 1/2 cup milk and 1/2 cup shredded old Cheddar cheese.