Egg & Lemon Soup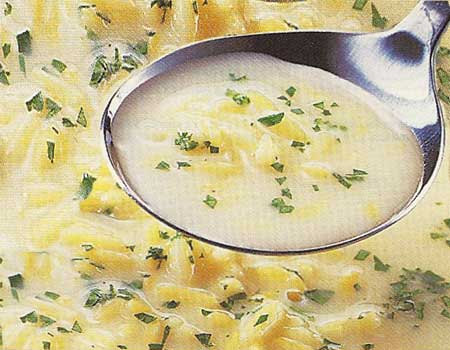 Ingredients:
5 cups chicken stock, preferably home made
1/3 cup uncooked rice
1/4 cup fresh lemon juice (about 2 lemons)
2 eggs
2 tablespoons finely chopped parsley
Directions:
In a large pot, bring chicken stock to a boil.
Add rice, cover and cook until rice is tender (for about 15 to 20 minutes).
Meanwhile, whisk lemon juice with eggs in a medium bowl until blended.

Whisk about 1 cup of hot chicken stock mixture into egg mixture until blended. Then, whisking continuously, add back to pot when rice is cooked.

Serve sprinkled with chopped parsley.


Makes 4 servings.
Per serving:

146 Calories. 10.6 g protein. 4.4 g fat, 15 g carbohydrates. 0.3 g dietary fibre. 33 mg calcium. 12 mg iron. 21 mcg folacin. Excellent source of vitamin B12.