Chocolate Peppermint Cookies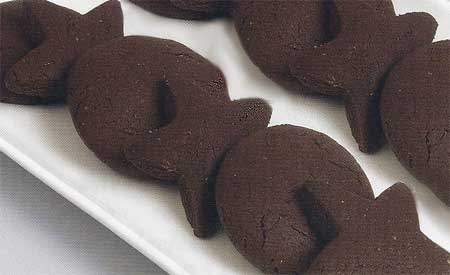 Ingredients:



3/4 cup
whole wheat pastry flour
1 cup
all-purpose flour
3/4 cup
unsweetened cocoa powder, sifted
2 teaspoons baking powder
1/2 cup butter, softened
1 cup brown sugar
2 large eggs
1 teaspoon peppermint extract
1/3 cup semisweet mini chocolate chips, melted




Direction:



In medium bowl, combine whole wheat pastry flour, all-purpose flour, cocoa and baking powder; set aside.

In mixing bowl, beat butter with brown sugar until smooth.

Add in eggs and peppermint extract.

Add melted chocolate and beat until smooth.

Stir flour mixture to chocolate mixture and beat to combine.

Divide dough into 4 equal parts, shape into discs, cover with plastic wrap and refrigerate for 1 to 2 hours.

Preheat oven to

350°F (180°C)

.

Line cookie sheet with parchment paper.

Working with one disc at a time, shape dough into 8x I inch (20 X 2.5 cm) log on un-floured work surface.

Cut each log into 8 equal pieces and shape each piece into a ball. Place balls on prepared cookie sheet, about 2-inch (5 cm) apart. Slightly flatten each ball with hand and bake until surface cracks and cookie is cooked through, about 15 minutes. Do not over bake. If you like, make different shapes with cookie cutters from other logs.

Cool cookies on baking sheet for 5 minutes before removing to rack and cooling completely.

Store cookies in airtight container for up to 5 days.



NOTE:

You can freeze
Chocolate Peppermint Cookies
for up to 4 weeks.


Makes 32 cookies.


Email this info to Friend

Browse Pages


Breads & Related

Cakes & Related

Cookies

Amazing Pies

Pastries

Puddings

Eggs

Fruit

Rice

Vegetarian

Tasty Dips

Dressings

Soups & Related

Cooking With Kids

Herbs & Spices

Special Occasion

Miscellaneous

Recommended Products

Complete with a tin storage, this great set of 11 round, stainless-steel cookie cutters comes in handy for all seasons. The cutters range in size from 3/4 inch high to 3-5/8 inches high, and they have rolled edges on top to protect fingers during the cutting process.
Dishwasher-safe.

Find More Cookie Cutters