Quick Tiramisu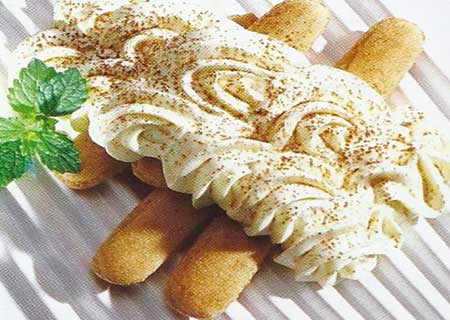 Ingredients:



2 egg yolks
1 cup heavy cream (whipping cream)
1/2 teaspoon vanilla
3 tablespoons Mascarpone
3 tablespoons powdered sugar
1 tablespoon Amaretto
12 lady fingers
1 cup strong coffee
Pinch of powdered cocoa



Directions:



In a mixing bowl combine egg yolks, Mascarpone cheese, Amaretto liqueur and sugar; mix well and set aside.
In another bowl whip heavy cream with vanilla.
Fold whipping cream mixture into Mascarpone cheese mixture; set aside.
Moist lady fingers with coffee. Fill serving dish with alternate layers of lady fingers and cream mixture. Dust with powdered cocoa and serve.
Makes 2 to 3 servings.



Email this info to Friend

Browse Pages


Breads & Related

Cakes & Related

Cookies

Amazing Pies

Pastries

Puddings

Eggs

Fruit

Rice

Vegetarian

Tasty Dips

Dressings

Soups & Related

Cooking With Kids

Herbs & Spices

Special Occasion

Miscellaneous

Recommended Products

Great Cookbooks
Learn To Eat Healthy
Homemade Pies
Humble Pie
Art of Pie Making
All About Pies & Tarts
Pie and Pastry Bible
Pie & Tart
W/Sonoma Collection
More On Making Pies