Strawberry Orange Pavlova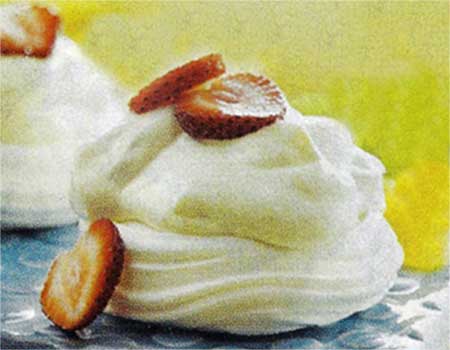 Pavlova is a classic Spring dessert. Crispy meringue nests make an elegant, yet simple dessert when filled with a delectable orange cream and fresh berries. Prepared meringue nests are readily available at grocery stores, usually in the cookie or baking section, or you can use your favorite meringue recipe making each nest about 4 inches (10 cm) in diameter.



Ingredients:



1/3 cup granulated sugar
3 eggs
1 cup whipping cream (35%), divided
2 teaspoon grated orange rind
1/3 cup freshly squeezed orange juice
1 tablespoon butter
2 cups sliced fresh strawberries
8 meringue nests




Directions:



In a heatproof bowl set over a saucepan of simmering water, whisk together sugar, eggs, 1/4 cup whipping cream, orange rind and juice. Cook, whisking constantly, for about 10 minutes or until thick. Remove from heat and whisk in butter until melted. Place plastic wrap directly on the surface and refrigerate until chilled, about 2 hours.
Trim hulls from strawberries and cut lengthwise into slices; set aside.
In a chilled bowl, using an electric mixer, whip remaining 3/4 cup whipping cream to stiff peaks. Fold one quarter of the whipped cream into orange mixture to lighten. Fold in remaining whipped cream and half of the strawberries. (Can be covered and refrigerated for up to 4 hours).
Spoon filling into meringue nests and top with remaining strawberries.
Serve immediately.

Makes 8 servings.


Email this info to Friend

Browse Pages


Breads & Related

Cakes & Related

Cookies

Amazing Pies

Pastries

Puddings

Eggs

Fruit

Rice

Vegetarian

Tasty Dips

Dressings

Soups & Related

Cooking With Kids

Herbs & Spices

Special Occasion

Miscellaneous

Recommended Products

Did You Know?

It is especially important that all fruits to be eaten should not only be sound in quality, but should be made perfectly clean by washing if necessary, since fruit grown near the ground is liable to be covered with dangerous bacteria (such as cause typhoid fever or diphtheria), which exist in the soil or in the material used in fertilizing it.
Most fruits, properly used, aid digestion either directly or indirectly. The juicy ones act as dilutents, and their free use lessens the desire for alcohol and other stimulants.

To serve its best purpose, raw fruit should be eaten without sugar or other condiments, or with the addition of as small a quantity as possible.
Great Cookbooks
Learn To Eat Healthy
Homemade Pies
Humble Pie
Art of Pie Making
All About Pies & Tarts
Pie and Pastry Bible
Pie & Tart
W/Sonoma Collection
More On Making Pies