Vanilla Yogurt Cream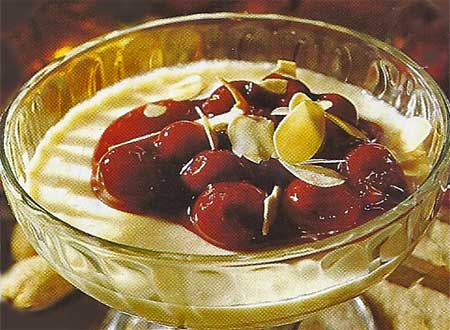 Ingredients:

1 cup vanilla yogurt
1 cup whipping cream
1/4 teaspoon vanilla
2 tablespoons powdered sugar
Fruit and blanched almonds for garnish



Directions:



Place all ingredients in the mixing bowl and beat until they are stiff; cover and chill in the refrigerator until ready to serve.
Transfer to serving dish, decorate with your favorite fruit and blanched almonds; serve immediately.

Makes 2 to 3 servings.



Email this info to Friend

Browse Pages


Breads & Related

Cakes & Related

Cookies

Amazing Pies

Pastries

Puddings

Eggs

Fruit

Rice

Vegetarian

Tasty Dips

Dressings

Soups & Related

Cooking With Kids

Herbs & Spices

Special Occasion

Miscellaneous

Recommended Products

Great Cookbooks
Learn To Eat Healthy
Homemade Pies
Humble Pie
Art of Pie Making
All About Pies & Tarts
Pie and Pastry Bible
Pie & Tart
W/Sonoma Collection
More On Making Pies