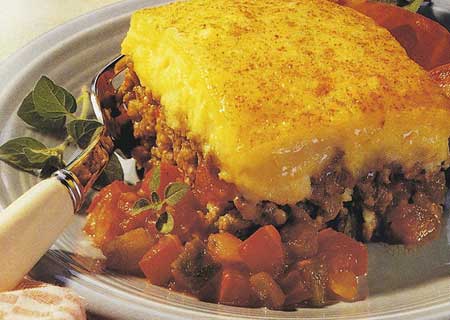 No chopping or extra cooking - your favorite bottled gluten free salsa mild or hot, is all the flavoring you will need.

Ingredients:

1 lb lean ground beef
2 tablespoons Maya's Gluten Free Flour Mix No.1
1 cup mild or hot salsa
12 large eggs
1/3 cup milk
1/4 teaspoon salt
2 cups shredded Mozzarella cheese, divided
Paprika
Salsa

Directions:

In large non-stick skillet over medium-high heat, cook ground beef until browned, breaking up large pieces. Drain excess fat.

Stir in flour and salsa; cook 2 minutes longer.

Transfer beef into 9-inch (23cm) square baking dish or 10-cup (2.5 L) oven casserole. Wipe skillet with paper towel; set aside.

In large bowl, whisk together eggs, milk and salt. Pour into skillet and cook over medium heat, stirring constantly, until just starting to set but still very moist. Remove from heat and stir in about half of the cheese. Pour eggs over ground beef mixture, smoothing top; sprinkle with remaining cheese, and bake in 325°F (160°C) oven for 10 to 12 minutes or until eggs are set.

Let stand for 5 minutes. Sprinkle top with a little paprika, cut into squares and serve with extra salsa.

Makes 8 servings.


TIP: Reduce oven temperature by 25°F (10°C) for gas oven.