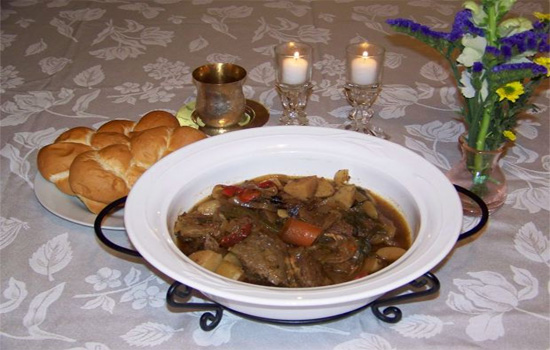 Ingredients:

2 pounds of the neck of mutton
3 tablespoons butter
3 tablespoons oil
4 medium onions, chopped
6 large potatoes, peeled, and cut in quarters
2 carrots, peeled and cut in larger pieces
Salt and ground pepper to taste
3 pints of boiling water
2 tablespoons of flour

Directions:
Cut the mutton in serving or bite size pieces and sprinkle with the flour, salt and pepper; set aside.
Put fat in the stew pan, with the chopped onions, and stir for 8 or 10 minutes over a medium heat until onions are soft and beige in color.
Add seasoned meat to the sautéed onions and cook for about ten minutes, stirring constantly, than add the boiling water and simmer for one hour.
Add the carrots and potatoes. Simmer for an hour longer, and serve with bread.


TIP: You can cook dumplings with this dish, if you choose. They are a great addition to all kinds of stews and ragouts.