Chicken Bake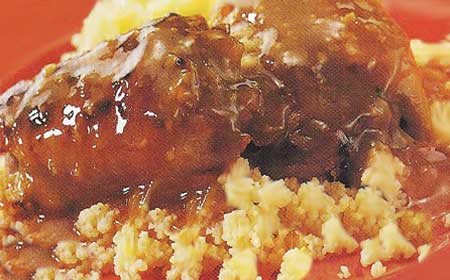 Ingredients:



8 chicken thighs, skin removed
1/2 cup white vinegar
1/4 cup orange juice
1/4 cup liquid honey
2 tablespoons soy sauce
3 garlic cloves, minced
1 teaspoon finely chopped fresh ginger
1½ tablespoon cornstarch



Directions:



Preheat oven to 350ºF (180ºC).
Place chicken in a casserole dish just large enough to hold it.
Whisk vinegar, orange juice, honey, soy sauce, garlic and ginger together until blended and pour over chicken.
Bake in preheated oven 40 minutes, turning occasionally, until chicken is cooked.
Remove chicken from casserole and cover loosely with foil. If casserole can be placed directly on stove element, leave liquid in casserole. If not, turn liquid into a small pot.
In small bowl whisk cornstarch and 2 tablespoons water until dissolved.
Bring liquid in casserole or pot to a boil; whisk in cornstarch mixture, stirring continuously until thickened.
Serve chicken with sauce spooned over top.

Makes 4 servings.



Per serving:

258 calories, 27.9 g protein, 5.4 g fat, 24.8 g carbohydrates, 0.2 g dietary fibre, 22 mg calcium, 1.8 mg iron, 14 mcg folacin. Good source of vitamin B6
and vitamin B12.