Crispy Chicken Fingers with Celery Sauce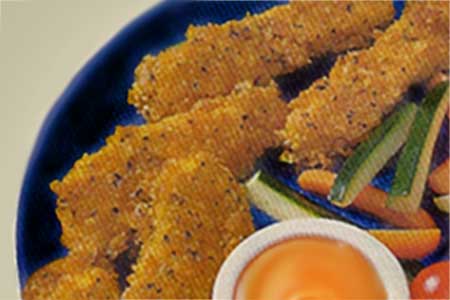 Ingredients:



4 skinless, boneless chicken breast halves (about l lb or 500 g)
1 can (l0 oz) condensed cream of celery soup
1/2 cup milk
1¼ cups crushed corn flakes
1/4 cup grated Parmesan cheese
1/2 teaspoon dried parsley leaves
1 tablespoon olive oil
3/4 cup ketchup



Directions:



Cut chicken breasts lengthwise into 1-inch (2.5 cm) wide strips.
In shallow dish, combine 1/2 cup condensed soup and 1/4 cup milk.
On waxed paper, combine corn flakes, cheese and parsley.
Preheat broiler.
Dip chicken pieces into soup mixture then coat with crumb mixture.
Arrange chicken pieces on non-stick baking sheet and broil 4 to 5 minutes on each side or until cooked.
Discard remaining soup and crumb mixtures.
Meanwhile, in non-stick fry pan, heat oil to medium; add remaining soup, remaining milk and ketchup; cook until just heated through, transfer to serving dish and serve with warm chicken.

Makes 4 servings.



For Cold Dip:

In medium bowl, combine remaining soup, remaining milk and ketchup. Transfer to serving dish and serve cold with warm chicken.