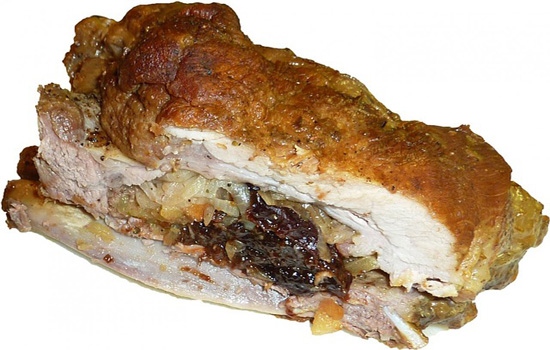 It is easier to carve this joint by cutting across the ribs, parallel with the backbone, but that is cutting with the grain; and meat, especially beef, seems more tender if cut across the grain.
Place it on the platter with the backbone at the right. If the backbones be not removed before cooking, place the fork in the middle and cut close to the backbone down to the ribs. Shave off the thick, gristly cord near the backbone, as this, if left on, interferes with cutting thin slices. Then cut, from the side nearest you, thin uniform slices parallel with the ribs. Run the knife under and separate them from the bone. Many prefer to remove the bone and skewer the meat into a roll before cooking. It may then be laid, flesh down, on the dish, and carved across the top horizontally in thin slices; or if you find it easier, place it with the skin surface up, and carve down from the flesh side nearest you.
This style of serving is generally preferred, but there are advantages in retaining the bone; for the thin end when rolled under is not cooked to such a nice degree of crispness, and the slices are usually larger than desired. Again, the ribs, by keeping the meat in position, secure for it a clean cut, and not one broken and jagged, and the thin end may be served or not, as you please.