Sloppy Joes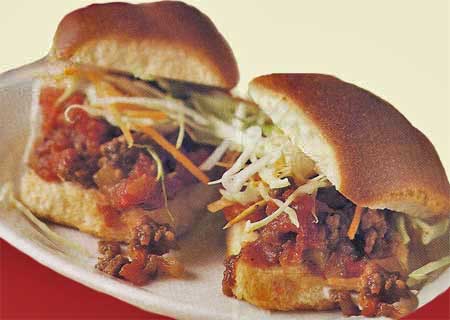 Ingredients:



1 tablespoon extra virgin olive oil
1 medium onion, finely chopped
1 celery rib, finely chopped
1 small green bell pepper, finely chopped
1 lb (500 g) lean ground beef
4 sandwich buns, split
1 can (15 oz) no-salt-added stewed tomatoes
1/2 cup (125 ml) chili sauce
2 teaspoons Worcestershire sauce
1/2 teaspoon ground black pepper
2 teaspoons cider vinegar
1 large carrot, cut into very thin matchsticks
1/4 small head cabbage, slivered



Directions:



Put rack in middle of oven and preheat to 350ºF (180ºC).
Heat oil in large nonstick skillet over medium-high heat. Add onion, celery, and green pepper; sauté until tender, about 5 minutes.
Add ground beef and cook, breaking up meat with spoon, until meat is no longer pink, about 4 minutes.
Meanwhile, put buns cut-side up on baking sheet, and heat in oven until toasted, about 2 to 3 minutes.
Add tomatoes with their juice, chili sauce, Worcestershire, and black pepper to skillet. Cook, stirring often, until flavors blend, about 4 minutes longer. Stir in vinegar.
Transfer toasted buns to 4 plates; spoon the prepared beef mixture on bottom of each bun. Top with several strips of carrot and cabbage; cover with top of bun.


Makes 4 servings.