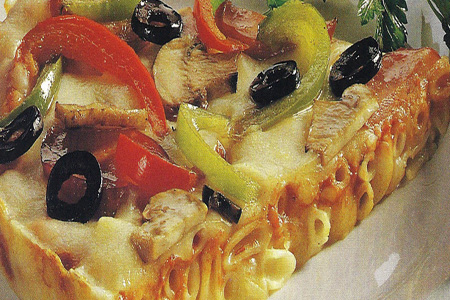 Ingredients:

4 cups leftover cooked pasta (or 2 cups dry pasta)
1/2 cup milk
1 large egg, beaten
2 cups shredded Mozzarella cheese, divided
1 cup chunky tomato pasta sauce
Assorted pizza toppings

Directions:

Preheat oven to 350ºF (180ºC).
Combine milk, egg, 1 cup Mozzarella cheese and cooked pasta; mix well. Spread mixture evenly into lightly greased 10-inch round baking dish.
Spoon pasta sauce evenly over cooked pasta mixture.
Sprinkle with remaining shredded Mozzarella cheese.
Cover with assorted pizza toppings of your choice.
Bake in preheated oven for 20 to 22 minutes.
Let stand 5 minutes before serving.
Serve with your favorite salad.


Makes 6 to 8 servings.

Assorted pizza toppings: sliced mushrooms, sliced ham, smoked sausage, red peppers, green peppers, sliced pepperoni, sliced black olives - or use your favorite vegetables.