Apple Tarts

Ingredients:
10 large tart apples
1/2 cup water
3 egg yolks
3 eggs
2 lemons, juice and grated rind
1/2 cup butter
1½ cups sugar
1 Puff Paste
Meringue


Directions:

Pare, quarter, core and

boil in half a cup of water, ten large, tart apples until quite soft. When cooked, beat until very smooth.
Add the yolks of three eggs, and three whole ones, the juice and grated outside rind of two lemons, half a cap of butter; one and a half cup of sugar (or more, if not sufficiently sweet); beat all thoroughly.

Line patty-pans with a puff paste and fill;

Bake 5 to 6 minutes in a hot oven.
Meringue:

If you want to decorate them very nice, cover them when removed from the oven with the Meringue made of the whites of three eggs remaining, mixed with three tablespoons of sugar.

After decorated with meringue, return tarts to the oven and delicately brown.


Email this info to Friend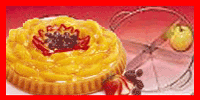 Browse Pages


Breads & Related

Cakes & Related

Cookies

Amazing Pies

Pastries

Puddings

Eggs

Fruit

Rice

Vegetarian

Tasty Dips

Dressings

Soups & Related

Cooking With Kids

Herbs & Spices

Special Occasion

Miscellaneous

Recommended Products


Helpful Tips

Puff paste in the form of tubes and shells may be used for serving foods daintily. Thus, a hollow tube may be made by rolling the paste very thin, cutting it into rectangular pieces, placing each piece over a round stick about 1-1/2 inches in diameter, and then baking. After the baked tube is slipped off the stick, it may be filled with sweetened and flavored whipped cream, to which may be added chopped nuts, chopped fruit, or jam. Small baked shells of puff paste can be used as timbale cases, which may be filled with creamed mushrooms, creamed sweetbreads, or other delicate creamed food. If shells are not desired, small triangular or round pieces may be cut and baked and creamed food served over them as it would be served over toast.