Maple Pecan Tarts

This tasty treat is made with pure maple syrup.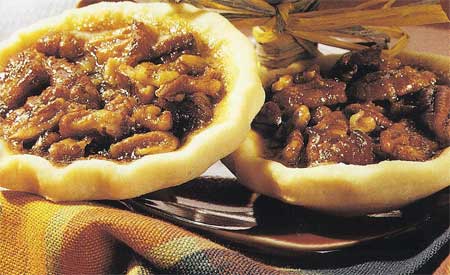 Ingredients for Tart Shells:





2

¼

cups sifted cake & pastry flour




1 teaspoon granulated sugar




1/2 teaspoon salt




3/4 cup cold butter




1 egg


Ice water




Ingredients for Filling:



1/4 cup butter
2/3 cup packed brown sugar
2 eggs
1 teaspoon vanilla
1/3 cup pure maple syrup
2/3 cup coarsely chopped pecans


Directions for Tart Shells:

In large bowl mix together flour, sugar and salt.

Using pastry blender, cut in butter, then shortening, until the size of peas.

In a measuring cup, beat egg with fork and stir in enough ice water to equal 1/2 cup.

Stir egg mixture, 1 tablespoon at a time, into flour mixture, until pastry is moistened and holds together in a ball. Press dough together and flatten, wrap

with plastic wrap; chill for 30 minutes.

Roll out pastry on lightly floured surface to 1/8-inch (3 mm) thickness.

Cut into twelve 3

¾

-inch (9 cm) rounds; press into large tart pans.
Directions for
Filling:
In medium bowl, cream butter and brown sugar until fluffy.

Beat in eggs and vanilla.

Beat in maple syrup, fold in pecans and immediately spoon into tart shells.

Bake in 375° F (190° C) oven for 15 to 18 minutes or until pastry is golden and filling is set.

Makes 12 tarts.



TIP:
To prevent crumbly pastry, stir egg mixture well into flour mixture.


Email this info to Friend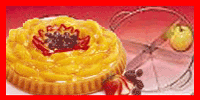 Browse Pages


Breads & Related

Cakes & Related

Cookies

Amazing Pies

Pastries

Puddings

Eggs

Fruit

Rice

Vegetarian

Tasty Dips

Dressings

Soups & Related

Cooking With Kids

Herbs & Spices

Special Occasion

Miscellaneous

Recommended Products


Did You Know?

Butter, made by churning cream, is 80% milk fat, the remaining 20% water and milk. It's available salted and unsalted, and most cooks prefer unsalted butter for the flavour.

The unsalted butter is more perishable than salted, as the salt acts as preservative.

Cultured Butter, is 80% milk fat, as well; however, specific cultures are added to provide a unique flavour. Available in salted, unsalted and semi-salted.

Whipped Butter has air beaten into it, thereby increasing volume and creating softer, more spreadable consistency when cold. While it can be used for baking, adjustments may be necessary.

Light or Calorie Reduced Butter, at 60% milk fat has 25% less fat than regular butter, due to a higher percentage of water and milk solids. Good for spreading, but when using in place of regular butter for baking, you'll have a softer texture.

For best results, use the ingredient called for in a recipe or select a recipe that calls for the type of fat you wish to use.