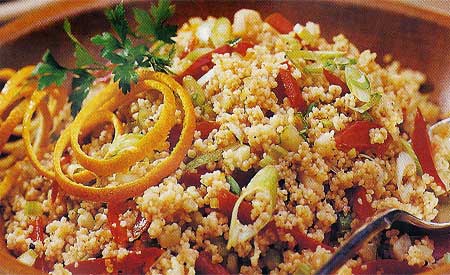 Chances are you already have all the items needed to make this simple, festive salad in your crisper and cupboards.

Ingredients:

2 cups instant whole wheat or regular couscous
1¾ cups boiling water
1 cup hot orange juice
2 stalks celery, finely chopped
1 red pepper, quartered and thinly sliced
2 green onions, thinly sliced on the bias
1/4 cup balsamic vinegar
1 teaspoon finely grated orange peel
1 clove garlic, minced
1/2 teaspoon salt
1/2 teaspoon ground black pepper
1/2 cup extra virgin olive oil
Directions:

Place couscous in a large bowl.

Pour in hot water and hot orange juice. Cover tightly and let stand for 5 minutes.

Fluff with a fork and let cool for 15 minutes.

Meanwhile, prepare all vegetables; set aside.

Add vegetables to couscous mixture.

In a small bowl stir balsamic vinegar with orange peel, garlic, salt and pepper.

Whisk in olive oil and then drizzle over couscous mixture. Toss to combine.

Taste salad and adjust seasoning just before serving.

NOTE:

If making ahead, taste just before serving and add extra olive oil and balsamic vinegar if necessary.


Makes 16 servings.


Per serving: 166 calories, 7 g fat, 22 g carbohydrate, 3 g protein, 1g fibre.