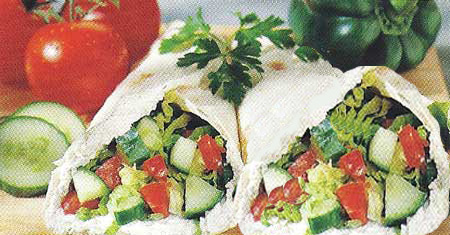 Ingredients:

1/2 cup cottage cheese
1/3 cup crumbled feta cheese
1 clove garlic, minced
4 soft flour tortillas (7-inch)
1 medium tomato, diced
1 cup shredded Romaine
1 cup coarsely chopped cucumber
1/2 teaspoon oregano
Directions:

In food processor or blender, process cottage cheese, feta cheese, and minced garlic until smooth. Spread evenly over tortillas.

In separate bowl combine all remaining ingredients; spoon 1/4 mixture into centre of each tortilla. Fold up bottom edge and then fold over sides of each tortilla.

Serve immediately.

Makes 4 servings.