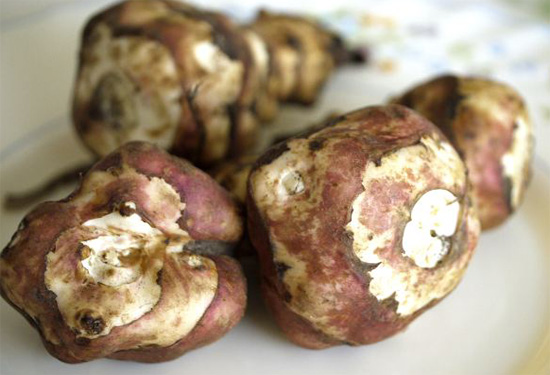 Ingredients:


2 lb. jerusalem artichokes
1/4 cup vinegar
2 cups boiling milk
1 cup boiling water
1 teaspoon salt



For Sauce:



2 tablespoons butter
2 tablespoons flour
1½ cups milk
1 egg yolk
2 teaspoons fresh lemon juice
2 tablespoons cream
Salt and ground white pepper to taste


Garnish:
2 teaspoons finely chopped fresh parsley



Directions:

Wash and scrape jerusalem artichokes, and throw each one in cold water containing vinegar; when all are done, rinse in water and put into boiling milk. Add 1 cup of boiling water and teaspoon of salt to the boiling milk and boil artichokes quickly with lid off.

Meanwhile prepare sauce; blend butter and flour in a heavy saucepan over medium heat until light creamy color. Add milk, salt and pepper, and cook for about five minutes, stirring often to avoid lumps. Remove from fire, add egg beaten with cream and lemon juice; set aside.

Pierce each jerusalem artichoke with fork to know if done. Lift cooked jerusalem artichokes into hot serving dish and pour sauce over artichokes.

Garnish with finely chopped parsley and serve.

Makes 6 servings.