Apple Raisin Toasts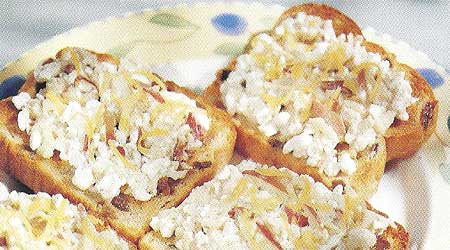 Ingredients:
1/2 cup cottage cheese
1/2 cup grated unpeeled organic apple (1 medium)
2 teaspoons lemon juice
1/4 teaspoon cinnamon
4 slices raisin bread, toasted
1/4 cup grated Cheddar cheese

Directions:
Stir together cottage cheese, apple, lemon juice and cinnamon; spoon onto toasted bread.
Sprinkle toasted bread with Cheddar cheese and place on baking sheet.
Broil until Cheddar cheese melts, 1-2 minutes.
Serve immediately.
Makes 4 toasts.

Hint: Other fresh or stale breads, English muffins or bagels may be used instead of raisin bread.