Broccoli & Mushroom Calzone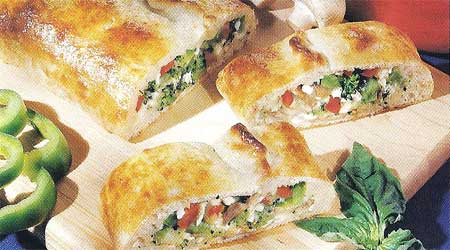 Ingredients:
2 teaspoons extra virgin olive oil
1½ cups sliced mushrooms
1/3 cup chopped red or green pepper
1 clove garlic, minced
1 large egg, beaten
2 cups (300g package) frozen cut broccoli, thawed and well drained or blanched fresh broccoli
3/4 cup cottage cheese
1/3 cup grated Parmesan cheese
1 teaspoon dried basil
1/4 teaspoon ground black pepper
1 package (283 g) refrigerated pizza crust or homemade pizza crust

Directions:
In medium skillet heat oil over medium-high heat. Add mushrooms, peppers and garlic; sauté for 3 to 4 minutes until lightly browned. Cool.

In small bowl beat egg. Reserve 1 tablespoon of beaten egg.

In medium size bowl, combine remaining egg, broccoli, cottage cheese, Parmesan cheese, dried basil and ground pepper. Stir in mushroom mixture.

Unroll pizza crust onto lightly greased 15x10" (37.5x25cm) baking sheet; press out dough to make oblong shape.

Spoon broccoli mixture down centre of dough. Fold dough over filling, pinching all edges to seal. Brush with reserved egg. Cut a few slits in top to vent.


Bake at 425°F (220°C) for 15-20 minutes or until browned.
Makes 4 servings.
Variation:

Instead of broccoli, substitute 1 package (300 g) frozen chopped spinach, thawed and well drained.


Email this info to Friend

Browse Pages


Breads & Related

Cakes & Related

Cookies

Amazing Pies

Pastries

Puddings

Eggs

Fruit

Rice

Vegetarian

Tasty Dips

Dressings

Soups & Related

Cooking With Kids

Herbs & Spices

Special Occasion

Miscellaneous

Recommended Products

Did You Know?

Parmigiano-Reggiano, also known in English as Parmesan, is a hard, granular cheese, cooked but not pressed, named after the producing areas near Parma, Reggio Emilia, Modena, and Bologna (all in Emilia-Romagna), and Mantova (in Lombardia), Italy. Under Italian law, only cheese produced in these provinces may be labelled "Parmigiano-Reggiano", while European law classifies the name as a protected designation of origin.

Parmigiano is the Italian adjective for Parma. Reggiano is the Italian adjective for Reggio Emilia. Parmesan is the French name for it and also serves as the informal term for the cheese in the English language. The name Parmesan is also used for cheeses which imitate Parmigiano-Reggiano, with phrases such as "Italian hard cheese" adopted to skirt legal constraints. The closest legitimate Italian cheese to Parmigiano-Reggiano is Grana Padano.