Pear Chutney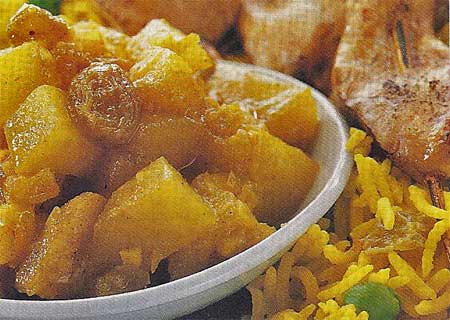 Ingredients:



1 tablespoon grapeseed oil
1 onion; chopped
4 garlic cloves, minced
2 teaspoons minced peeled fresh ginger
1 teaspoon curry powder
1/2 teaspoon ground cinnamon
1/4 teaspoon ground allspice
6 pears (not too ripe), peeled, cored and chopped into 1/4-inch pieces
1/2 cup orange juice
1/3 cup brown sugar
1/4 cup cider vinegar
1/3 cup raisins
1½ teaspoons salt
Pepper to taste



Directions:



In a large saucepan over medium-low heat, add oil, onion, garlic, ginger, curry cinnamon and allspice. Cook, stirring frequently, until onion is soft, about 5 minutes.
Add pears, orange juice, brown sugar, vinegar and raisins. Increase heat to medium and cook, covered, stirring frequently for 20 minutes. Uncover and cook 10 minutes, stirring frequently, until pears are soft and liquid evaporates. Add salt and pepper to taste.
Chutney will keep covered in air tight containers in the fridge for up to 2 weeks.
Serve with pork, chicken, hot dogs or burgers.

Makes 2 cups.



Per tablespoon:

38 calories, 0.3 g protein, 0.6 g fat, 8.8 g carbohydrates, 0.7 g dietary fibre, 8 mg calcium, 0.2 mg iron, 2 mcg folacin.