Baking Powder Breads, Buns & Rolls
Baking Powder may be used instead of yeast to leaven bread. It does precisely the same work; that is, raises the dough, making it porous and spongy. The great advantage of bread made by this method is in time saved, as it can be mixed and baked in less than two hours. Milk bread needs little or no shortening, and less flour is required than when water is used. Sift flour before measuring, and use level measurements for all materials.

NOTE: When making biscuits or bread with baking powder or soda and cream of tartar, the oven should be prepared first; the dough handled quickly and put into the oven immediately, as soon as it becomes the proper lightness, to ensure good success. If the oven is too slow, the article baked will be heavy and hard.


BROWSE RECIPES:






Email this info to Friend

Browse Pages


Breads, Buns & Rolls

Muffins, Gems, etc.

Biscuits & Related

Griddle Cakes & Waffles

Cakes & Related

Cake Icings & Fillings

Cookies & Related

Other Desserts

Site Map

Complete with a tin storage, this great set of 11 round, stainless-steel cookie cutters comes in handy for all seasons. The cutters range in size from 3/4 inch high to 3-5/8 inches high, and they have rolled edges on top to protect fingers during the cutting process.
Dishwasher-safe.

Find More Cookie Cutters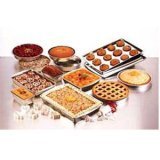 Helpful Tip

Stale rolls may be made light and flakey by dipping for a moment in cold water, and placing immediately in a very hot oven to be made crisp and hot.