Biscuits & Related
HOW TO RENEW STALE BISCUITS AND ROLLS
:
To freshen stale biscuits or rolls, put them into a steamer for ten minutes, then dry them off in a hot oven; or dip each roll for an instant in cold water and heat them crisp in the oven.
BROWSE RECIPES:


Email this info to Friend

Browse Pages


Breads, Buns & Rolls

Muffins, Gems, etc.

Biscuits & Related

Griddle Cakes & Waffles

Cakes & Related

Cake Icings & Fillings

Cookies & Related

Other Desserts

Site Map

Complete with a tin storage, this great set of 11 round, stainless-steel cookie cutters comes in handy for all seasons. The cutters range in size from 3/4 inch high to 3-5/8 inches high, and they have rolled edges on top to protect fingers during the cutting process.
Dishwasher-safe.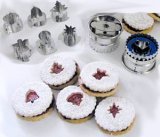 Find More Cookie Cutters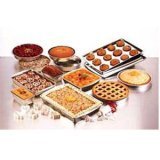 Helpful Tip

Salt is always used in bread-making, not only on account of its flavor, which destroys the insipid raw state of the flour, but because it makes the dough rise better.

If you don't have sour milk for your baking, just add 2 teaspoons of lemon juice or plain vinegar to the regular milk and let it stand for about 15 minutes before use.