Star Fruit or Carambola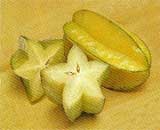 Star fruit is a tropical and subtropical fruit with glossy yellow, slightly waxy skin and five lengthwise ridges; cut crosswise for star-shaped slices. The entire fruit is edible, including the slightly waxy skin, unlike other tropical fruits. Star fruit is best consumed when ripe, golden yellow in color with a light shade of green. The flesh is crunchy, firm, and extremely juicy, having a sweet taste without being overwhelming, and have a tart, sour undertone. The taste is difficult to compare, but it has been likened to a mix of apple, pear, and citrus family fruits all at once. Unripe starfruits are firmer and sour, and taste like green apples. Overripe starfruit will be yellow with brown spots and can become soggier in consistency.

Star fruit is rich in antioxidants and vitamin C and low in sugar, sodium, and acid. It is also a potent source of both primary and secondary polyphenolic antioxidants. It has both antioxidant and antimicrobial activities and the fruit extracts showed antimicrobial activity against E. coli, Staphylococcus aureus, and Pseudomonas aeruginosa.

Use raw as a garnish or in salads. If you want to accent fish or poultry dishes, saute slices briefly on both sides and serve immediately.



NOTE:

Star fruit contains oxalic acid, which can be harmful to individuals suffering from kidney failure, kidney stones, or those under kidney dialysis treatment. Consumption by those with kidney failure can produce hiccups, vomiting, nausea, and mental confusion. Fatal outcomes have been documented in some patients.




Email this info to Friend

Browse Pages


Breads & Related

Cakes & Related

Cookies

Amazing Pies

Pastries

Puddings

Eggs

Fruit

Rice

Vegetarian

Tasty Dips

Dressings

Soups & Related

Cooking With Kids

Herbs & Spices

Special Occasion

Miscellaneous

Recommended Products

Did You Know?

Like the grapefruit, star fruit is considered to be a potent inhibitor of seven cytochrome P450 isoforms.These enzymes are significant in the first-pass elimination of many medicines, and, thus, the consumption of star fruit or its juice in combination with certain medications can significantly increase their effective dosage within the body. Research into grapefruit juice has identified a number of common medications affected, including

statins

, which are commonly used to treat cardiovascular illness, and

benzodiazepines

(a tranquilizer family including diazepam).