Fruit Cakes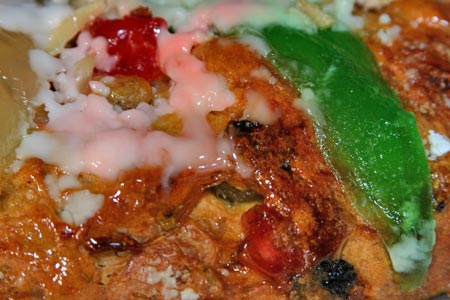 Fruit Cake By Measure

Superior Fruit Cake

White Fruit Cake

Molasses Fruit Cake

Raisin Bread or Raised Cake

Washington Loaf Fruit Cake

Dried Apple Fruit Cake

Other Recipes for Breads, Desserts, Cookies and More
RAISIN BREAD OR RAISED CAKE

Two cups of raised dough; beat into it two-thirds of a cup of butter and two cups of sugar creamed together, three eggs, well beaten, one even teaspoon of soda dissolved in two tablespoons of milk, half a nutmeg grated, one tablespoon of cinnamon, a teaspoon of cloves, one cup of raisins. Mix all well together, put in the beaten whites of eggs and raisins last; beat all hard for several minutes; put in buttered pans and let it stand half an hour to rise again before baking. Bake in a moderate oven.

NOTE: Half a glass of brandy is an improvement, if you have it convenient.
DRIED APPLE FRUIT CAKE

Soak three cups of dried apples over night in cold water enough to swell them; chop them in the morning and put them on the fire with three cups of molasses; stew until almost soft; add a cupful of nice raisins (seedless, if possible) and stew a few moments; when cold, add three cups of flour, one cup of butter, three eggs and a teaspoon of soda; bake in a steady oven. This will make two good-sized pans of splendid cake; the apples will cook like citron and taste deliciously. Raisins may be omitted; also spices to taste may be added. A delicious cake.


Email this info to Friend

Browse Pages


Breads, Buns & Rolls

Muffins, Gems, etc.

Biscuits & Related

Griddle Cakes & Waffles

Cakes & Related

Cake Icings & Fillings

Cookies & Related

Other Desserts

Site Map


Did You Know?

In the 18th century in some areas in Europe, fruitcakes were made using nuts from the harvest for good luck in the following year. The cake was then saved and eaten before the harvest of the next year. The fruitcake also remained popular at Victorian Teas in England throughout the 19th century.

In the Bahamas, not only is the fruitcake drenched with rum, but the ingredients are as well. All of the candied fruit, walnuts, and raisins are placed in an enclosed container and are soaked with the darkest variety of rum, anywhere from 2 weeks to 3 months in advance. The cake ingredients are mixed, and once the cake has finished baking, rum is poured onto it while it is still hot.