Requirements for Pastry & Pie Making

NATURE OF PASTRIES AND PIES
Pastry desserts may be made in various fancy shapes for individual servings or in pies that will serve five or six persons. Pies having one crust usually contain a filling that consists of a custard mixture, a mixture thickened with corn starch or flour, or occasionally a fruit mixture. Some pies also have a top crust covering the filling, and when this is the case a fruit filling, either fresh or cooked, is the kind that is generally used.

Because of the nature of the materials used in the preparation of pastry desserts, the finished product is necessarily high in food value. For instance, starchy material is provided by the flour, fat by the shortening, and sugar in comparatively large amounts by the filling, whether it be fruit of some kind or a material resembling custard. This fact, rather than the taste or the appetite, should aid in determining whether or not pastry desserts should be included in a meal. While the popularity of such desserts causes them to be used somewhat indiscriminately, their use should always be governed by the nature of the rest of the meal. Thus, if the other dishes served provide enough food value, then a dessert lighter than pie should be chosen; but if the rest of the meal is not sufficiently high in this respect, a wholesome pastry dessert will generally prove to be a wise selection.

Detailed instructions regarding the making of pastry desserts are given throughout this Section, but if the greatest degree of success is to be attained, it will be well from the very beginning to understand a few general rules that apply to this work. In the first place, the ingredients must be of the right sort and as cold as possible; then they must be handled and combined with dexterity; and, finally, a hot oven must be provided in order that these foods may be properly baked.


INGREDIENTS USED FOR PASTRY
The ingredients used in pastry making are neither numerous nor complicated, usually including only flour, salt, shortening, and liquid. If these are correctly combined, they will be all that is required to make a pastry that is light, flaky, and crisp.

Occasionally a recipe requiring baking powder will be found and sometimes eggs are called for in mixtures of this kind, but neither of these ingredients is required for successful pastry making. Baking powder may be an advantage when it is used by one who is not experienced in the handling of pastry mixtures, for it helps to make pastry lighter. However, only a small quantity of this ingredient should be used, as a very little will bring about the desired result.


FLOUR FOR PASTRY
Pastry flour is the most desirable for pastry making. It is made from winter wheat, which, as has already been explained, contains less gluten and therefore lacks the gummy consistency of bread flour. For puff paste, which is prepared so as to hold air between thin layers of pastry, bread flour is often used because it retains air better.

Flours made of other cereals may also be used. Pastry made of such flours is more difficult to handle, but good results may be obtained if patience and care are exercised. When corn flour, rice flour, and barley flour are used as part of the flour for pastry, it will be found that less shortening is needed than when wheat flour alone is used. The dark flours, such as barley, produce a pastry that is dark in color, but this is no particular disadvantage so long as the quality is not impaired.

No matter what kind of flour is used for the pastry, it should be as dry as possible. At times, putting the flour in a warm oven and allowing it to dry will prove to be advantageous. However, flour so treated should be cooled before it is used, since the cooler the ingredients are the better will be the pastry.

Cereal products of different kinds, such as corn meal, for instance, may be moistened, spread into pans in thin layers, and then baked. The shells thus produced may be filled with various kinds of filling and used very successfully. Such shells, however, can scarcely be considered as real pastry.


NOTE: The flour for pastry must be made as light as possible (you could accomplish this by sifting the flour before use.



Email this info to Friend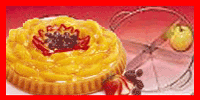 Browse Pages


Breads & Related

Cakes & Related

Cookies

Amazing Pies

Pastries

Puddings

Eggs

Fruit

Rice

Vegetarian

Tasty Dips

Dressings

Soups & Related

Cooking With Kids

Herbs & Spices

Special Occasion

Miscellaneous

Recommended Products


Helpful Tips

To produce the best results, the pie pastry should be baked as quickly as possible;so hot oven is necessary. The baking can be accomplished most successfully in the case of a single crust baked without the filling or a pie containing a mixture that does not require long cooking. Otherwise, the temperature must be sufficiently low to cook the filling so that it will be palatable, and MORE...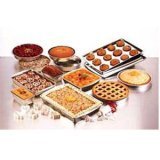 Water is the only liquid used in pastry making. Water should be as cold as possible, or cold water in which small pieces of ice are allowed to melt is especially desirable for this purpose.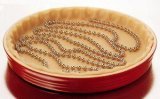 This chain of weights is designed to prevent pie shells from shrinking while blind-baking, replacing dried beans, rice, and individual ceramic weights. Simply place the continuous chain of weights inside an unbaked pie shell and place in the oven; when the pie shell is baked, grasp one end of the chain with an oven mitt and remove the chain.