Indian Spicy Vegetable Stew with Lentils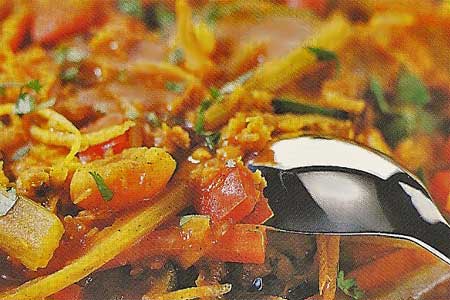 Ingredients:



1 tablespoon olive oil
1 onion, thinly sliced
6 garlic cloves, sliced
1 tablespoon minced fresh ginger
2 carrots, julienned
2 celery stalks, julienned
1 red pepper, cut into large dice
1 medium zucchini, sliced
1/4 cup quartered dried apricots
1/4 cup dried currants
1/2 cup red lentils
1 tablespoon

Homemade Spicy Spice Blend


4 cups vegetable stock
1/4 cup dry white wine
Juice and peel of 1 lemon
Salt and chopped coriander to taste



Directions:



Heat oil in a large saucepan; add onion, garlic, ginger, carrots, celery and red pepper and cook until onion is tender.
Add zucchini, dried apricots, dried currants, lentils and 1 tablespoon Homemade Spicy Spice Blend. Stir to coat.
Add stock and wine; simmer, uncovered, 30 to 40 minutes, until mixture is thick like stew.
Add lemon juice, lemon peel and salt. Sprinkle with chopped coriander and serve on couscous.
Makes 4 servings.



Per serving:

238 calories, 9.5 g protein, 4.9 g fat, 43.1 g carbohydrates, 7.9 g dietary fibre, 76 mg calcium, 4.1 mg iron, 154 mcg folacin. Excellent source of vitamin A, vitamin C and iron.



Email this info to Friend

Browse Pages


Breads & Related

Cakes & Related

Cookies

Amazing Pies

Pastries

Puddings

Eggs

Fruit

Rice

Vegetarian

Tasty Dips

Dressings

Soups & Related

Cooking With Kids

Herbs & Spices

Special Occasion

Miscellaneous

Recommended Products

Did You Know?

Lentil colors range from yellow to red-orange to green, brown and black. Lentils also vary in size, and are sold in many forms, with or without the skins, whole or split.

The seeds require a cooking time of 10 to 40 minutes, depending on the variety — shorter for small varieties with the husk removed, such as the common red lentil — and have a distinctive, earthy flavor.

Lentils are often used throughout South Asia, the Mediterranean regions and West Asia. They are frequently combined with rice, which has a similar cooking time. A lentil and rice dish is referred to in western Asia as mejadra or mujaddara. Rice and lentils are also cooked together in khichdi, a popular dish in the Indian subcontinent (India and Pakistan); a similar dish, kushari, made in Egypt, is considered one of two national dishes. Lentils are used to prepare an inexpensive and nutritious soup all over Europe and North and South America, sometimes combined with some form of chicken or pork.

Dried lentils can also be sprouted by soaking in water for one day and keeping moist for several days, which changes their nutrition profile.

Lentils with husk remain whole with moderate cooking; lentils without husk tend to disintegrate into a thick purée, which leads to quite different dishes.