Quick Peach Custard Pie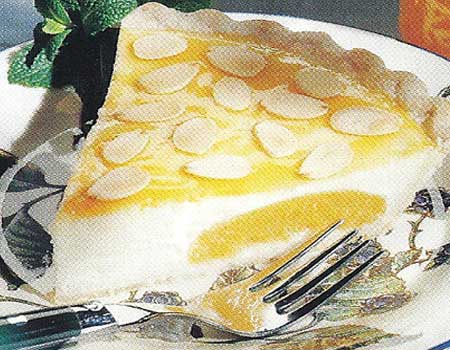 Ingredients:



1 frozen deep dish pie shell (9-inch/23cm)
1 cup cottage cheese
2 large eggs
1/3 cup sugar
1/3 cup sour cream
1 tablespoon all purpose flour
1/4 teaspoon almond extract
1 can (14 oz) peach halves or slices, drained
1/3 cup apricot jam


Directions:

Thaw pie shell according to package directions; place on baking sheet and bake at 375°F (190°C) for 5 minutes.
Arrange peaches over bottom of pie crust.
In food processor or blender, process cottage cheese until smooth. Add eggs, sugar, sour cream, flour and almond extract; process until smooth.
Pour cheese mixture over peaches in pie shell and bake about 40 minutes longer or until set.
Press jam through sieve; gently brush over surface of hot pie.
Cool on rack about 45 minutes to serve warm or cool completely and then refrigerate to serve cold.
Garnish with toasted sliced almonds, if desired

Makes 8 servings.